As Russia and the US play football with Ukraine, repercussions are being felt in the city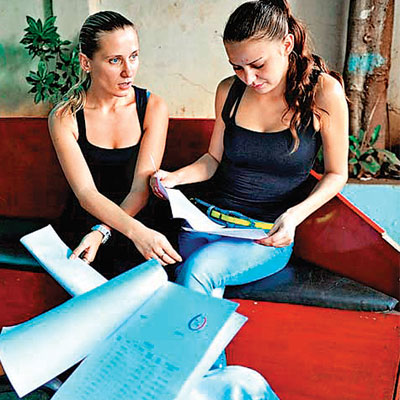 While recent events in the Ukrainian towns of Crimea and Donetsk, over 7,000km from Mumbai, may hardly be a blip on the radar for Indians in poll mode, that's not exactly the case with the over 2,000 Ukrainian girls in the city who are associated with the glam industry.
Interestingly, in many cases, the matrons who chaperone girls and talk business with Indian film units and event companies are Russians, and they have always worked together despite the problems back home.
Not far from their 1,200sqft Goregaon (East) flat, five Ukrainian roomies who have barely woken up near noon, have come to the neighbourhood's largest mall for hair and beauty fixes. The remote is asked for but unlike their perennial favourites, FTV or MTV, they seem to be interested in news and keep switching between CNN and Russia Today to monitor the situation back home. Though Tatyana Klimova is from Zaporizhzhya, she has family in Crimea and an obvious Russian leaning. "How can people's choice to self-determine be called annexation by the Western media?" she says, trying to change the channel when Kievan room-mate Tetiana Stepanova, 27, angrily snatches it away. "Russians will destroy our already impoverished country. They are not concerned with Ukraine. Its all about interfering and making a point with NATO to keep themselves relevant."
A crowd of gawkers has begun gathering outside the glass facade of the high-end boutique. Klimova gestures to them and bursts out laughing. The staff smile indulgently but a plump Russian matron, getting a pedicure done, is not amused. Inna Gorshunova is Klimova and her friends' chaperone. "Why can't you go anywhere without drawing attention," she asks later in the corridor outside. "These young girls don't understand it's best to not attract too much attention."
The 49-year-old first came to India with her boyfriend in the late '90s from Ingushetia, one of Russia's poorest regions. She lived with him for a few years in Manali and Goa, where he tried to set up his own shack. "From waiting on tables to managing the bar, there was little I didn't do," she recalls. "While I slogged he took to drugs, and spent all the money on them. Life became so terrible that I sometimes longed for the routine of having the same potato-onion soup for breakfast, lunch and dinner back home in Ingushetia."
Gorshunova began walking the streets and came to Mumbai through a client, who supplies extras to film units. Here, she saw how much trouble his men faced to sign foreigners as background dancers. "I learnt the ropes with him and started working on my own."
She began networking with modelling agencies in Kiev and Odessa and found many young girls willing to try their luck in Mumbai. Among them, Anna Vaslavsky, a political science graduate from Volyn university. "You know we are in in such a terrible state that joining the EU would have been good. I don't see the point of having no jobs or food in a cold country like ours and not wanting to do anything about it."
Gorshunova shushes her, predicting that nothing good will come of the current friction. "Politicians escalating the issue will all be safe in Western Europe, America and Russia, and innocents will die."
Out of the salon, politics fades for a moment as the girls stop to admire a heavy-worked ghaghra-choli-clad mannequin in a neighbouring outlet's display. "This looks lovely, will they give us outfits like these at the wedding," asks Klimova. They have an offer to mingle with baraatis at a wedding on Sunday, and the youngster sounds excited till Vaslavsky laughs, "Pray they have a good AC, otherwise these outfits can get very hot."