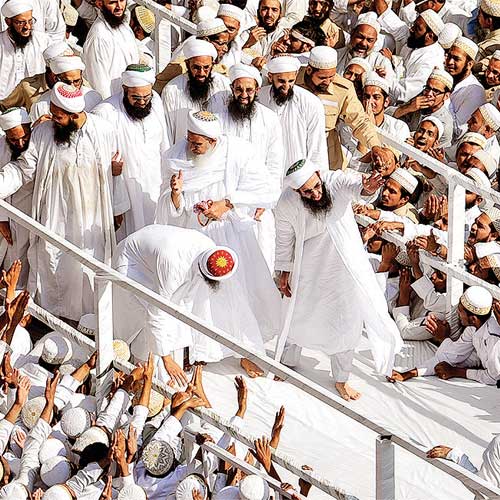 On Ashura (the last day of Muharram, which marks the day Imam Hussain was killed), lakhs of Dawoodi Bohra Muslims from across the world would reach the mosque where the late Aqaa Maula, Syedna Mohammed Burhanuddin, would be giving a sermon. The reason: at sunset he would remove his turban and robe (worn around the chest), put his head on the floor and move his right hand on the back of his neck, as if slitting it.
This was to mark the Vafat of Imam Hussain (killing of Imam Hussain) during the war of Karbala at the hands of Yazid. The representation made by Maula used to move the Bohras to tears. Then, people in mosques around the world would beat their chest and, while chanting "Yaa Hussein", chorus "Iss josh ke maatam mein aur is shaan ke maatam mein rakhna tu mere maula ko sada aabad".
Syedna initiated the reconstruction of the shrine Maula Ali in war-torn Najaf in Iraq. The last and only word in the community of over a million worldwide, Maula meant everything for them.
Be it the injured or the dead or those living in abject poverty, if they went through hard times, the elders and family members found solace in his name. Letters were written to him, asking for blessings before marriage and suggestions for names of newborns. If someone was suffering losses in business, they would ask for his blessings and, if he suggested, they would even relocate and change the line of business.
His arrival and departure from the city was marked as an event. Even at odd hours, people would stand on roads to get a glimpse of him passing by in car en route to his house, Saifee Mahal. When his health deteriorated a few years ago, community members observed special prayers every evening in mosques, as well as organised walks up to Raudat Tahera, seeking shifa (well being).
My late grandfather introduced me to the importance of Syedna, whose father (the 51st Syedna) he knew personally. When Maula would see my grandfather at Saifee Mahal, he would call out, "Aao aao, vandrewala (bandrawala), aao." Memories of my grandfather going to give Wajebaat (donation of part of income) to Saifee Mahal even at the age of 97, when he breathed his last, will remain vivid.
Today, when 18 people have died and several have been injured, I'm sure it's a mistake on part of the public and administration. But the ones who lost their loved ones will say, "Maula par lakhon jaan si kurbaan."