Four multi-tasking super moms decode the fine art of juggling motherhood, workplace pressure, household chores and daily living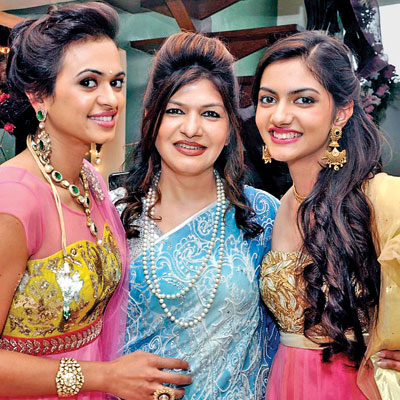 Most mothers, if not all, are expected to be superhuman. Irrespective of the nature or quantum of challenges life throws their way, these women have to perform and the fact is that they perform with elan! Here is a glimpse of the hectic, yet fulfilling lives of four talented super moms residing in the Western Suburbs.
Headstart helps
Bandra-resident Vinitha Ramchandani, children's fiction writer and editor, mother to nine-year old Vani and seven-year old Ammol, starts her day at 5 a.m. "I go for a walk in the morning and this is the time I organise the day in my head. Once I am back home at 6.30 a.m, I am on the run till past midnight." Starting early helps Vinitha set the tone for her day. "I wake up at the same time even on weekends. The quiet hours of the morning help me enjoy some 'me-time'." Every bit of Vinitha's 'me-time' energises her enough to deal with her workplace pressure and her responsibilities as a mother, besides the writing, editing and children's workshops that she conducts in her 'free' time.
Juhu-resident Reshma Jani, gallerist and art curator, too likes a headstart. Her day starts at 6 a.m. Jani describes herself as a full-time homemaker and career woman. "For me, there are no choices—just how well you balance both. I have learnt to give as much importance to my clients as I give to my son's school principal." Reshma works seven days, often past 11 pm because some of her clients live in different time zones.
"I have been working for the last 17 years and I multitask from the time I wake up," shares Khar-resident Ramya Rajagopalan, India Head Communications, Siemens, mother to nine-year old Aryan. Ramya, a single mother, reaches her workplace by 8.15 am every day after coordinating her family's meals and dropping Aryan to school. "By the time my colleagues reach, I have already cleared a lot of stuff. I work at breakneck speed. By 3 pm most of the work is under control and that is when Aryan gets back from school and calls from home start coming in for various things. Women are wired to multi-task and instinctively know how to prioritise," she says with a grin.
Be it walks, or taking the first 15 minutes of the day to mentally organise their day, or chanting… each super mom has her own formula to get into the groove. "The more I go out there, the more I multitask; the more people I meet, the more I need to get back to my centre with meditation," says Reshma. "I am constantly coordinating with my home while working and I do not know what I would do without my phone which is constantly buzzing with reminders. My work at home and my work as a gallerist are not two separate worlds," she adds.
Vinitha adds, "There isn't a minute that I am not working. There are days when my children are unwell and I have dropped everything to be with them and there are days that I am away the entire day or travelling. Luckily for me, I have a generous joint-family. They take over in my absence."
Being organised
Dr Anjali Mukerjee, nutritionist, founder-director of Health Total and mother to Anchal, 26, and Suchita, 17, can run her home and her 30 centres smoothly only because she plans things in advance. Bandra-resident Anjali says, "My day starts at 7am with my pooja and after that it is action all the way. The girls leave by 8 am and I am busy coordinating with my staff for household chores. I leave for work at 10 am and then it is about meetings, going to a centre, travelling for lectures, training the senior team of nutritionists and doctors in my staff, who in turn train the junior staff as well as supervise the running of the centres."
Anjali is also a part of a number of health, nutrition and obesity organisations and writes columns for a number of publications. With all of this, she still finds time to go for plays with her daughters and shop with them. "I try to fit in everything, including planning all the meals of the day," she says with a laugh.
All for love
Art is Reshma's first love; Vinitha has been telling stories since she was in kindergarten; Anjali has always been passionate about health and wellness; Ramya is zealous about the powers of communications; and Indira Naik lives and breathes music. Excelling in their fields comes effortlessly to these women probably because they are following their passion.
Indira, Sufi singer and mother to 14-year old Aditi, positively glows when she talks of her two favourite subjects: music and motherhood. "Right now I am working on the theme of 'Mystical Bards of India' and need to do a lot of research for it," says Indira. Despite being a well known Sufi and Ghazal singer, Indira finds time to learn even now. "Whenever I have time, I practice or go to meet my teachers—Pandit Mohinderjeet Singh and Pandit Vitthal Rao." Indira's day starts at 5 am with riyaaz and she usually practices for a minimum of five hours a day.
For Indira too, life orbits around her home and her career. "I work on my own terms and conditions. There are days when I have not much in hand and I spend lots of time teaching Aditi or going for long walks with her. Then there are days when I am travelling for my shows across the country or even abroad. I use the days that I am travelling to ideate and practice. Aditi is at an age when she is like a friend to me. It is great to come home to a smiling face, holding a glass of lovingly-made nimbupaani."
The world can wait
"From the time my children were born, I have worked my schedules around them," says Vinitha. "My phone rings at 3 pm sharp when they are back from school, and everyone at work knows who is on the other line. When I get back home at 7 pm, I take them out to play or for walks, then I teach them for an hour and am with them till they go to bed around 9.30 pm."
"I am available to my children all the time," says Anjali. "I have a WhatsApp group for the four of us and that keeps us in touch with each other. I usually tell them what is for dinner and what time they are expected to be in and it usually works very well."
Ramya puts it succinctly, "Aryan is priority. My whole life revolves around him. Even if I am in a meeting and he calls, I usually excuse myself and take his calls. I want him to know that even if I am not around physically, I am, nevertheless, always around for him. When I am back I try to be around him, even if we are doing different things. Being a mother for me means equipping my child enough to set him free."