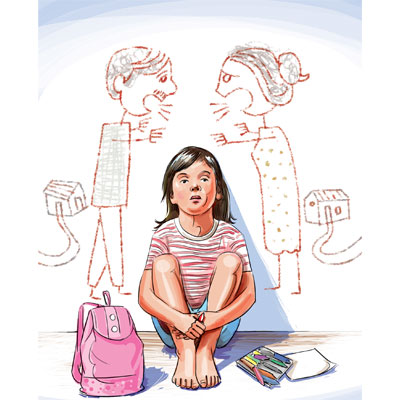 Courts have been making strong observations in their rulings allowing regular and over-night access to non-custodian parents. Custodian parents have often been told that children cannot be used as a 'chattel' to settle individual differences among them. In such cases, the welfare of children has to be paramount and perhaps the only concern for the divorced or estranged parents, courts have held.
In a recent order granting a father access to his seven-year-old child, the high court said: "A child must develop into an independent adult, unfettered by needless interference during his time of play. Undue or overdue intervention would interfere with his independence and growth. Over emphasis would be counter-productive."
Advocate Manjula Rao put it aptly when she said that judicial intervention is necessary to resolve temporary child-access applications. She said: "It is difficult for children, as most of the time the ego of parents supersede their welfare."
In a recent order, a family judge granted a father access to his child for four continuous days during the vacation, albeit under supervision of the mother. Of these four days, the court said that on one day the father could take the child to visit its grandparents. However, the judge cautioned: "The spouses shall observe etiquette."
Sympathetic view
One of the common excuses given by non-custodian parents for opposing overnight access to a child is that the non-custodian parent may abscond with the child. When it comes to the matter of dealing with children, the high court has been taking a sympathetic view, but at the same time judges take a lot of factors into consideration and ensure that the child is brought back to the custodian parent.
The non-custodian parent is made to give an undertaking that s/he will bring the child back after the tour. They are also asked to submit a photocopy of their passport and give a detailed itinerary of the trip.
However, custody cases are dealt with on individual basis and there are no hard and fast rules while passing orders on access.
Justice Roshan Dalvi, in a recent order, said: "No hard and fast rule can be laid down except perhaps the prime rule that all children need love and affection, care and upbringing of both their parents, and the parental responsibility extends to each of the parents."
Courts also do not decide on the right of parents in an application for custody or access, but the right of the child to have such access.