Transgenders want psychiatry to drop 'sick' tag for them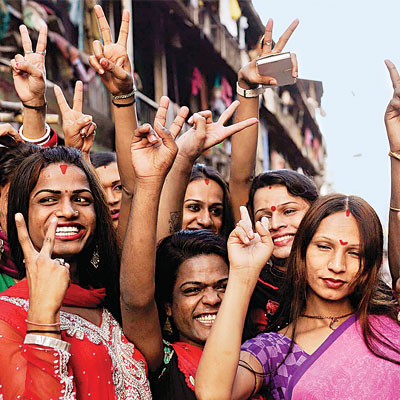 Now that photo-ops are done, many working with the transgender (TG) community are testing waters on how the Supreme Court ruling will actually translate into making a difference.
Equal rights activist Bindumadhav Khire of the Pune-based Samapathik Trust, which works with the community statewide, has written to the president of the Indian Psychiatric Society (IPS) Dr T V Asokan to remove 'Gender Identity Disorder'/'Gender Dysphoria' tag given to TGs in the International Classification of Disease (ICD ) and Diagnostic and Statistical Manual of Mental Disorders (DSM).
Often referred to as the 'Psychiatrist's Bible', both the ICD and DSM offer a common language and standard criteria for the classification of mental disorders
Referring to SC order, the letter quotes from the ruling to say, "They are to be provided a healthy environment in which they can flourish as any other citizen with various rights. They are to be respected and accepted in the mainstream so that they can live a life free of stigma and discrimination," and adds, "We at Samapathik Trust feel as long as the tag of 'Gender Identity Disorder' or 'Gender Dysphoria' is retained in ICD or DSMs the TG community will continue to be treated as 'sick' people by doctors and society. To remove this stigma, we feel it is important that this mention (of dysphoria or disorder) be removed from the disorder diagnosis list."
The letter has also been forwarded to president of the World Psychiatric Association, Prof Pedro Ruiz. "We want them to know that they will have to change nomenclatures to suit the times we live in," said Khire.
When dna contacted Dr Asokan, he tried to downplay the issue, "This can wait. We are in middle of looking how to make mental health accessible to all. Unless you want to talk about the work we are doing on that front you'll have to excuse me," he told dna.
Mumbai-based psychiatrist Dr Rajendra Barve felt some individuals who are having trouble adjusting to their new gender may need help. "This can vary from case to case. So the nomenclature in the classification needs to reflect that."
Others like counselling psychologist Deepak Kashyap echo Barve. "If someone is an introvert, s/he may need help if it is hindering their functioning in day-to-day life. But that doesn't make their condition pathological by any stretch of imagination. The same thing applies to a TG person too. If they need support or help while undergoing the gender-reassignment procedure then it should be accessible without them being labelled as diseased."