At the roundtable of conversations at a special event for International Women's Day at DNA, our board of prominent women from various walks of life talk about why it is important to have reservations for women in politics. Maitri Porecha reports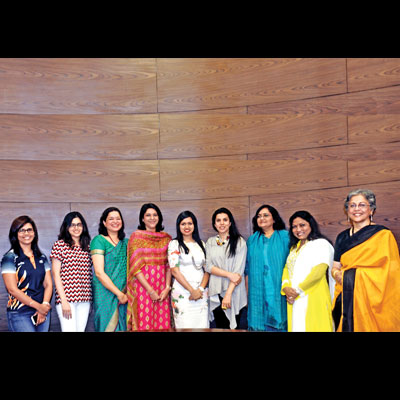 It is not only the UPA chairperson Sonia Gandhi who is anguished at the fact that women are not equally represented in the uppermost echelons of power in Indian politics. Women from walks of life share the thought that reservation for women from local to global bodies of governance is the need of the hour.
Of 543 members of Parliament (MPs) in the Lok Sabha, barely 58 are women. Since 1952, when the first Lok Sabha was constituted the representation of women has not crossed over 11 per cent. Last month, Gandhi regretted that Women's reservation bill, which seeks to reserve 33 per cent seats in Parliament and state legislatures, was not passed in the Lok Sabha for lack of consensus, even as it was passed in Rajya Sabha.
"Numerous parties are paying lip service about reserving seats for women. However, it needs to be critically analysed as to how many parties that actually talk about women's equality, nominate women candidates from their constituencies. The statute of 50 per cent reservations for women exists at gram panchayat and municipal corporation levels. But do the political parties even field 10 per cent of women as nominees in Parliament and state level elections?" asked Manisha Mhaiskar, state secretary, medical education.
Abysmally low levels of women's representation in political sphere shows India in a poor light when pitted against its neighbours in South Asia. Experts say that it is adversely affecting the gender empowerment index measured by the United Nations Development Programme (UNDP).
Professor Vibhuti Patel, head, department of economics, SNDT Women's University, Mumbai, echoes the sentiments vociferously. "All African countries as well as neigbouring countries in South Asian Association for Regional Co-operation (SAARC) meeting taunt India on low representation of women. All the neighbouring countries of India have reservation for women in legislative power structures. If Nepal, Bangladesh, Pakistan and Afghanistan can have up to 25% of their women making policy decisions along with men, why not India?" she asks.
"Inspite of introducing the women's reservation bill for up to 14 times in the Parliament from 1996 to 2013, not much progress has been achieved over the last decade, except for breaking furniture and fist fights ensuing in the Parliament," she adds.
"Political parties in eight states of India have unanimously given 50% reservation for women at lower levels of politics like Gram Panchayat and municipal corporations where stakes are very low. Panchayats always have to go begging to state government for funds. Except for the Aam Aadmi Party no political party has given substantial candidature for women," said Patel.
But isn't reservations for women in itself a debilitating criteria for women to enter politics? Shouldn't it be purely on merit? "No reservation in politics is historic injustice," replies Patel. "Since 5,000 years, women have been denied their voice and they have been denied any political space. To deepen the democracy, there has to be a collective representation of women. Not one or two showpieces serving coffee and sandwich, but we want women who have a say. We don't make coffee we make policy," she asserted.
What stops women then from entering the fray? "Women are still hesitant to take a leap as politics is a 24x7 job," says MP Priya Dutt. "Women are essentially multi-taskers. It is like you are told to go out there, take a plunge in the water and asked to swim in politics. Some women have been able to do it. We need more women to follow."
Brinda Somaya, noted architect and urban conservationist, had another point of view. Women rue that candidates with criminal history are given nomination thus taking up seats. "Many seats are taken over by criminals. We can't reach the goal overnight. If it was 10 per cent representation in the last election, what steps are being taken to gradually increase it to 20 per cent this time?