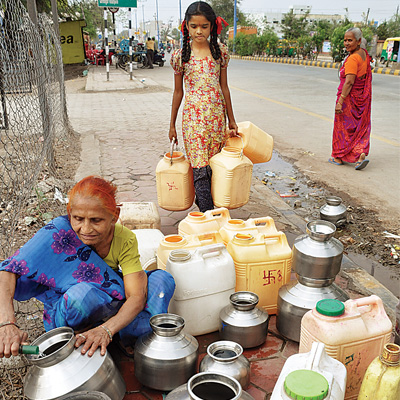 With rains continuing to evade the city, water levels in lakes supplying drinking water to it has been sinking day by day. The present stock in three important lakes is only 36% of what it was this day last year. It's, in fact, below the lowest drawable limit.
The water dept has been meeting to formulate contingency plan if it does not rain until July 10. Major water cuts can be expected. Normally monsoon sets in by June 10 or 15.
"Considering the forecast of weak monsoon, the dept had started drawing 150-200 MLD less water. Instead of the 3,900 MLD, only 3,700-3,750 MLD is being drawn each day. However, this is not serving the purpose, water cut looks inevitable," said a senior official in water dept.
City's major source is Bhatsa dam from where it gets 65% of its water; the rest comes from other five lakes. But with levels depleting, the Municipal Corporation of Greater Mumbai will have to take measures to ensure the city continues to get at least drinking water if the monsoon does not yield enough rain. "Water levels are so low that pumps are not able to suck water up," said the official.
There is also 15-20% water loss due to evaporation, which is much more this year. Transmission loss of 700 million litres is another issue.
Authorities said a contingency plan would be ready in a few days. It will include seeking help from even railways to bring water in special containers. Cloud seeding is another options.
"We cannot depend on cloud seeding as we don't know the amount of yield. However, authorities will undertake a study, and experiment," said a civic official.
Cloud seeding
There are two types of cloud seeding: One is air seeding: IITM experts will identify seedable clouds above which sodium chloride (salt) will be sprinkled using an aircraft. Salt will broaden droplets in the cloud, leading to formation of precipitation that causes drizzles, a process that will be completed in 15-20 minutes after salt is sprayed.
In the second type, highly soluble silver iodide is passed into storm clouds from a propane burner located on the ground. As the warm air moves up, it becomes cooler due to fall in temperature leading to formation of tiny droplets. These droplets then come together and precipitate, making them heavy enough to come down as showers.