A joint effort between a Bandra society and the police results in better policing of the neighbourhood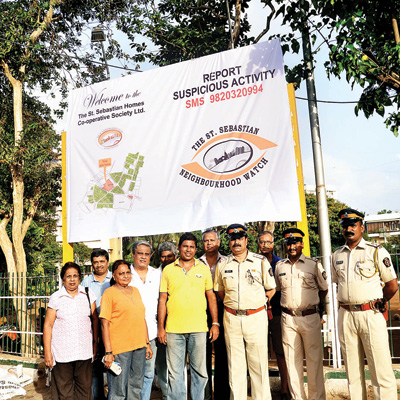 We had reported in the June 27th issue about the commendable initiative by St. Sebastian's Homes Society and the Bandra police, which had helped set up a neighbourhood watch to assist the police in tackling the crime level in that society. Two months later, the residents are happy not because there has been any major breakthrough in the number of crimes registered but because the response time of the police has improved.
The society, consisting of 119 buildings, has seen volunteers from the society come forth and help keep an eye on suspicious activities. Warren Fernandes, Secretary, St. Sebastian Homes Society shares, "All suspicious activities, incidents and movements are now being informed to the cops immediately. The beat officers have been really cooperative; heir overall conduct as well as the time they take to reach the society has improved greatly."
Fernandes informs that incidents such as loud noise emanating from the roof of a senior citizen's house; or someone trying to slide the door latch in order to break in; and a few young boys loitering suspiciously in the premises were informed to the police who took necessary action and called in some people for questioning.
Judy D'silva, an active neighbourhood volunteer, informs, "I have been volunteering actively and this has certainly made an impact. People now know that there is always someone who is keeping a watch. The cops have also been involved in patrolling."
To further deter the miscreants, the society is putting up boards that say "you are are under watch" and are also planning to set up CCTV cameras in certain areas. In another case, two men posing as cops and demanding money from senior citizens, were arrested. Fernandes added, "I had called the Senior Police Inspector Ramchandra Dhavle as soon as these fake cops showed up. Within minutes, the (real) officers came in and arrested the fake cops."
Senior Police Inspector Ramchandra Dhavle, Bandra police station, says, "The idea of a neighbourhood watch has proved beneficial for both parties and it is being carried out smoothly. My beat marshalls and the locals have been coordinating well with each other and I think they are doing a great job."