After 2012 face-off, Waqas arrest brings to the fore the bitter rivalry between them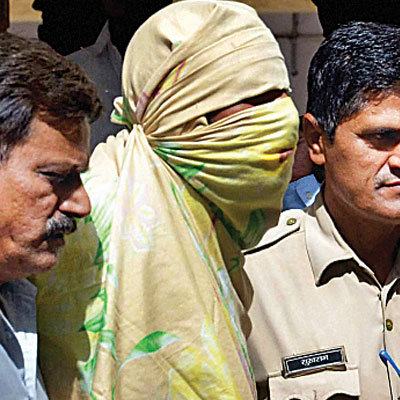 The bitter rivalry between the Delhi police's special cell and the Maharashtra anti-terrorism squad (ATS) has once again come to the fore with the arrest of top Indian Mujahideen (IM) operative Waqas Ibrahim Saad alias Ahmed.
The special cell on Sunday announced it had arrested Waqas, 28, and three others from Rajasthan. Waqas, a Pakistani national, is one of the main accused in the July 13, 2011, triple bomb blasts in Mumbai.
Soon after the announcement, ATS sources and the Mumbai police refuted the special cell's claims and said the person arrested was not Waqas but Waqar, who belonged to the Rajasthan module of the IM. He has no connection with the July 13, 2011, blasts, they said.
Furious with the ATS and the Mumbai police for making such claims, the special cell hurriedly called a press conference in Delhi and announced that the person arrested was Waqas.
The cell even made last-minute changes to its press release. "In a major success in its endeavour to contain terrorism being sponsored from across the border, the special cell of Delhi police has arrested Zia Ur Rehman, a Pakistani national, commonly known to 'anti-terrorist agencies' (an obvious reference to Maharashtra ATS) in India by his alias Waqas," it read. "This dreaded terrorist, exported by Pakistan based ISI and its protégé called Indian Mujahideen, is wanted in a series of bombings carried out all over India along with his absconding associates."
The media on Monday reported that Waqas, according to the special cell, was in Mumbai before leaving for Ajmer in Rajasthan on Friday. He was arrested from Ajmer on Saturday.
ATS sources were quick to refute this on Monday. "Waqas fled Mumbai in January 2012. After that he never returned to Mumbai," a senior ATS officer claimed.
Special cell officers, however, said they have enough evidence to prove that Waqas boarded a train from Bandra terminus. "Our investigations have revealed that, after the NIA [National Investigating Agency] arrested Yasin Bhatkal in August 2013, Waqas who was holed up in Mangalore, fled to the Munnar region in Kerala," a special cell officer said.
In Munnar, Waqas set up his own tea-stall. "After a couple of months, Waqas went to Odisha via Mangalore. From there, he went to West Bengal and then to Mumbai," the officer said. But he did not reveal how long or with whom did Waqas stay in Mumbai.
Another source said though Waqas was on their radar, the Special Cell did not want to arrest him while he was in Mumbai. "Officers felt it prudent to wait for him to leave Mumbai so that there is no repeat of what happened last time," he said.
In January 2012, a team of special cell officers camped in Mumbai for a fortnight after they found out that Waqas, Tabrez and Bhatkal were living in Habib Mansion in Byculla.
Around the same time, ATS got a whiff of it and a team of officers camped near Habib Mansion. As a result, the terrorists were alerted and all three fled.
The entire fiasco happened because of the bitter rivalry and a game of one-upmanship between the two forces.
Before the July 13, 2011, triple blasts in Mumbai, Waqas recced the Dadar railway foot over-bridge and Siddhivinayak Temple as possible terror targets. But both the targets were dropped — Siddhivinayak had too much security and the over-bridge was too crowded to carry out any operatioon, Waqas is believed to have told the Delhi police after his arrest.