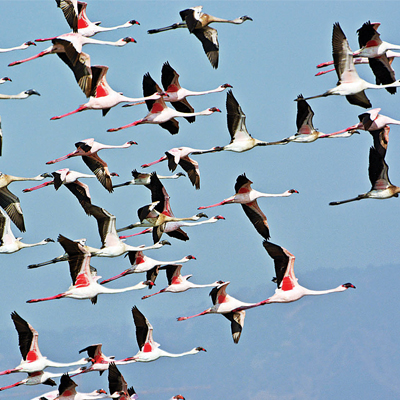 It's not just Sewree that attracts bird watchers. People from various parts of the city come to Thane Creek too to watch flamingos. And if you remain quiet for an hour or so, these birds will come close to you while they feed in the water near the creek.
They are normally seen here between months of November and June. It has been three years since flamingos started coming to Kopri's Koliwada area (Thane Creek). And flamingo lovers can be seen sitting here and enjoying watching these magnificent birds eating, mating and generally making themselves busy.
Jenil Kikani, a bird watcher and member of the NGO, Eco Echo, says: "There are more flamingos in Sewree than here as it's an intertidal zone and more exposed to the elements than Thane. Normally flamingos feed on algae, which are generally seen in muddy water. That's another reason why these birds flock to Sewree. However, Thane is richer in bio-diversity than Sewree or Mahul Creek.
"There are 140 species of birds in Sewree, but in Thane there are more than 200. In Sewree, there are seven species of reptiles, in Thane there are more than 12. The diversity in fin and shell fish too is much higher here than Sewree or Mahul. Density of mangroves too is more in Thane and it stretches 7-8 km up to Airoli. Sewree has just 2km stretch of mangroves."
Kikani added: "Two types of flamingos can be seen here, Lesser Flamingo and Greater Flamingo. Flamingos filter out algae from the muddy water and eat them. In recent times, there has been large scale dumping near the creek, and that has reduced the number of flamingos coming to this area."
Dhawal Gada, a Thane resident, says: "Earlier I used to go to Sewree to watch these beautiful birds, but after I came to know they come here, I too come here. Just watching them gives me immense pleasure. I am now educating myself on flamingos, how and what they feed on, and what make them come to this place, etc."
Saleel Gharpure, a wildlife photographer from Thane, says: "I have been observing birds since the last five years near Thane Creek. I visit this place twice or thrice a week. We have a variety of birds here, but very few wildlife enthusiast know about it. From November to June, a lot of flamingos visit mangroves in Mumbai, especially in Thane area. Though Sewree is considered the hotspot, here too you can watch them closely with your naked naked eyes. They are here regularly during low tide. This year they arrived a little late."
Pawan Sharma, president, RAWW, an NGO which is into wild bird rescue, says: "Flamingo sightings at Thane Creek is a great boon to wildlife enthusiasts, especially bird watchers and photographers.
Mangroves, however, are facing a lot of threat. The intervention of forest department and like-minded individuals and organisations will help in protecting mangroves, which are the habitat of not only migratory birds, but also native wild bird species."