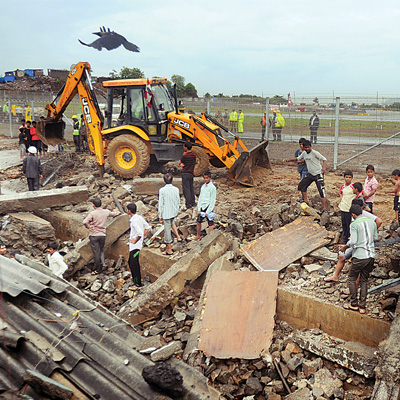 A portion of the airport boundary wall collapsed during the heavy downpour in the city on Wednesday afternoon, leaving the runway, located at some distance, vulnerable to intrusion. Airport authorities have temporarily blocked the gap with a metal sheet after clearing the debris.
Eight flights had to be diverted to neighbouring airports on account of the incident. Four aircraft were made to go around and another four were cancelled. The runway was closed intermittently several times, and once during the afternoon, it was closed for 15-20 minutes.
Sources said the densely-cluttered slums adjacent to the boundary wall of the Chhatrapati Shivaji International Airport (CSIA) had hindered the task of promptly repairing the walls.
An airport official said: "Workers could not go to the other side of the wall as there was no space for it. There was hardly any space for the crane to move. This led to delay in clearing the debris."
According to local sources in Jari Mari area of Kurla where the wall collapsed, the incident took place during the afternoon. They learned about it on hearing the big noise (of the wall collapsing). Two persons are said to have been injured. But no major casualty was reported," said Kazim Sheikh, a resident of the area.
BMC officials said they first received a call at the control room with someone informing them that two persons had drowned. However, some time later they learned that a wall had collapsed.
The slums surrounding the airport have been a contentious issue since a long time with consecutive governments hesitating to remove them allegedly due to vote bank politics. The slums are a roadblock to the development of the airport.
Somitro Ray, a flyer, said: "I had come to the airport to drop my son who was to take a flight. But the rains disrupted our plans."