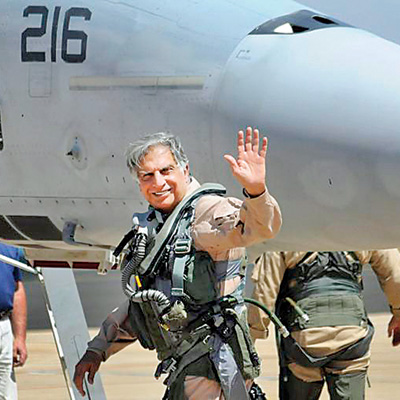 The much-expected announcement of the inauguration of the Tata-Singapore Airlines venture, Vistara, is bound to create a major churn in the Indian aviation which has just seen the arrival of another new airline, Air Asia.
Vistara will take a long time to make an impact on the foreign travel market because of the Jet Airway-Etihad tie up and Air India joining the powerful Star Alliance. Between these two, almost the entire foreign travel from India has almost been sewn up.
So Vistara will have to first make its mark in the domestic market. In this case, the timing may be right because the new airline can bite into the domestic market where Jet Airways is facing turbulent times and is planning to cut out two of its low-cost brands,Jet Konnect and Jet Liteand become a one brand, one pricing, one strategy airline.
According to aviation industry experts, Delhi-based Vistara which promises luxurious traveling for its passengers, will operate mainly on trunk routes going stragtegically in the opposite direction of Air Asia which has shunned the metros and is focussing on Tier II cities to make and early impact.
Vistara will have 87 weekly flights linking Delhi to Mumbai, Goa, Bangalore, Hyderabad, Ahmedabad, Jammu, Srinagar, Patna and Chandigarh.
By and large, in the initial years of its operations, Vistara is expected to be more focused on the northern part of the country, leaving Air Asia to mop up the remnants of the southern market with its cheap tickets.Tatas also has a stake in AirAsia which makes strategising easier. Landing and parking charges in metro airports are very high and Air Asia hopes to save heavily on this.
However, in the long run, Vistara is likely to get aggressive on international routes when the policy is changed to allow even new airlines with less than 20 aircraft to fly abroad. This policy change initiated by the previous government is likely to get the nod soon. But by next year both Star Alliance and Jet-Etihad would have consolidated their foreign travel market share.
Vistara is likely to position itself in the premium segment to fill in the gap left by Kingfisher airlines. "One of the main reasons for KFA to drown, was its extravagant expenditure without an eye on revenue. We don't want to fall in that trap," said a Vistara executive.
Vistara is planning to start operations from October, with delivery of its first plane, an Airbus A320-200, taking place in mid- September. The plan is to increase its fleet to 20 aircraft, including A320neos, by the end of the fifth year of operation. The leased aircraft are being sourced from Singapore-based BOC Aviation.