Civic body is planning to introduce the high-end technology, which costs between Rs 12 and Rs 20 crore, at its post-mortem centres to ascertain the cause of death before ripping a body apart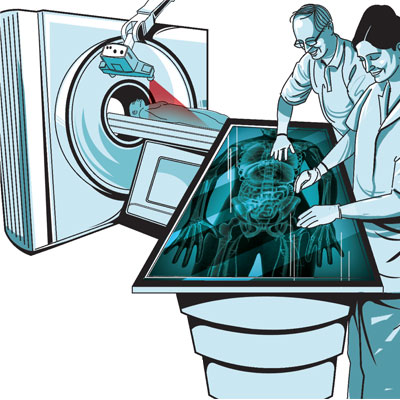 The scalpel-wielding coroner will not need to rip open a dead body for conducting a post mortem every time. The Brihanmumbai Municipal Corporation (BMC) authorities are considering setting up technology to enable virtual autopsies in their post-mortem centres. Three BMC-run post-mortem centres operate in Mumbai's leading medical colleges at KEM, Nair and Sion Hospitals.
Last week, forensic experts gave a detailed presentation of the virtual autopsy technology to a technical committee of BMC doctors.
High-tech diagnostic CT scanners with 3D imaging are used to peep inside the body to pick minute fractures and blood clots invisible to the naked eye. "Virtual autopsies are time saving and can complement standard autopsies," said Dr Suleman Merchant, head of the radiology department at LTMG Hospital in Sion.
Virtual autopsy permits additional analysis on the same body for second or third autopsies, say experts. Moreover, it reduces the risk of infections for coroners as they can subject the body to the scanner and software to ascertain cause of death before ripping it apart.
Experts say tracking of foreign objects like bullets and blast shrapnel is simpler through this cutting edge technology. Also, it preserves physical evidence like fibres and body fluids on the body as the body is first subjected to the scanner.
"It is extremely crucial in homicidal investigations where the entire route of gunshot or weapon wound can be tracked from inside the body. In cases of burns victims, it will help in facial reconstruction and identification of the victims. Also, deposition of water in organs like brain, lungs and abdomen can be precisely ascertained through this technology," said Dr Merchant.
Each post mortem centre in Mumbai conducts over 10 autopsies each day. Very often, family members oppose splitting apart the body of their loved one if foul play is not suspected in death. Virtual autopsies in such cases provide great relief to the doctors and the family.
"Every alternate day, I receive calls from traumatised families who cannot bear to have an autopsy conducted on their loved ones. With the virtual autopsy, the body remains intact. This avoids objections by family members or religious communities," said corporator Rais Shaikh.
A virtual autopsy set-up consists of hardware comprising a 64-slice CT scanner or above attached with forensic software and costs anywhere between Rs12 and Rs20 crore. Shaikh said, "The technical committee of doctors will submit their observations, after which acquiring such technology will be considered by the BMC."
Globally, virtual autopsies have been used by coroner's courts since over a year now. "Malaysia mandates the use of virtual autopsy. Most of Europe and the US use it as a complementary feature to enhance investigations," said Roma Khan, a Mumbai-based forensic expert.
What is a virtual autopsy?
The body is subjected to a CT scan and virtually split into lakhs of layers in the transverse plane
The CT scanner is attached to forensic medicine software
Parameters for cause of death and nature of injuries are fed into the software
A forensic medicine expert observes the body virtually to pick up minutaie like delicate fractures or extent of swelling in the body through the software