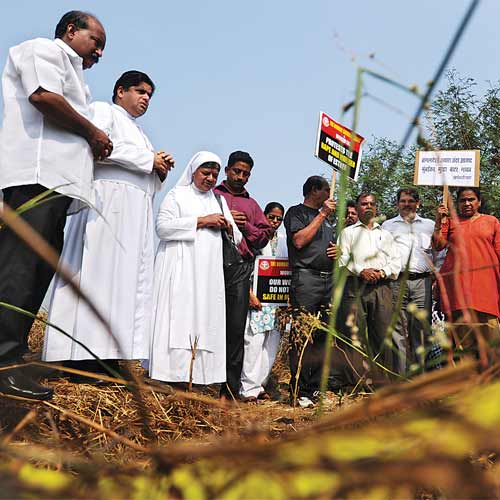 A week after Esther Anuhya's body was found in a desolate spot in Bhandup, a group of people held a silent protest near the spot on Thursday. They carried placards demanding immediate arrest of the killers.
The rally was led by Father Simon Lopez of St Joseph Church, Vikhroli (west), along with residents of Vikhroli and members of Bombay Catholic Sabha, a community welfare organisation.
While appealing to the police to nab the killers at the earliest, Fr Lopez said that the young engineer would probably have been alive had the city police and the railway police swung into action soon after they received a missing person complaint. He demanded that closed-circuit television cameras be installed at major railway stations in the city.
Fr Lopez said that Mumbai has become unsafe, especially for women, over the past couple of years as crimes like rape, molestation, eve-teasing and kidnapping of women have been on the rise.
Vice-president of Bombay Catholic Sabha Lawrence D'souza said that the city police should maintain records of taxi and autorickshaw drivers operating outside major railway stations and airports, considering the rising number of crimes.
Schoolteacher Sunita D'souza, who had joined the protest, said that the police should intensify patrolling, especially in desolate areas. "It will help deter criminals on the prowl," said D'souza, adding that stern action against anti-social elements will also go a long way in curbing the rising crime graph.