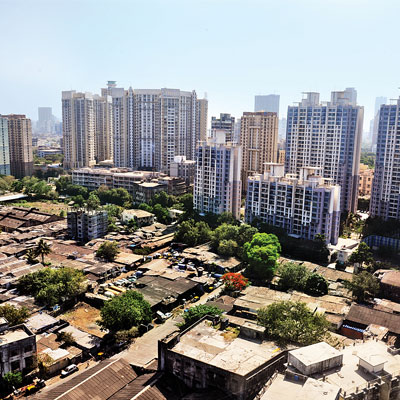 Situated on the eastern edge of south Mumbai, Sewri, until recently, was a forgotten locality housing blue-collar workers and migrants. Primarily known for the Bombay Development Department chawls, a series of crumbling structures, and flamingoes visiting its mudflats, the area had been left out from Mumbai's transformation map, especially when its neighbours Parel, Lower Parel and Wadala were walking away with all the attention.
Today, Sewri is set for a complete makeover.
With the real estate scenario seeing a near-saturation point in other areas of the city, developers are flocking to Sewri, which has ample scope for commercial exploitation in terms of land and redevelopment of hundreds of dilapidated buildings.
The locality has more than a dozen yet-to-be launched high-end projects that have attracted big investors like Lodha, Rubberwala, Monarch and many others. With its proximity to the new corporate hub in Lower Parel, redevelopment of Sewri is particularly focused on providing apartments – with sea view, personal elevators, a plush movie lounge, swimming pool and a lot more – to those who prefer to live close to work.
"Sewri had remained neglected for many years despite having its own sea face and proximity to Nariman Point as well as suburbs. But what has made it particularly more important for builders like us is availability of land in this area to redevelop and also lucrative government projects like Mumbai Nhava Sheva Sea link and the proposed Navi Mumbai airport," said Jamshed Irani, marketing head of Rubberwala builders that has several projects lined up in Sewri and adjacent areas.
Pankaj Kapoor, managing director of Liases Foras, a real estate research agency, reiterates the same. "The foremost thing that makes Sewri a hot spot amongst the builders is availability of old buildings which can be redeveloped."
Moreover, the Mumbai Metropolitan Region Development Authority is planning to develop Wadala as another business district of Mumbai, which will add to neighbouring Sewri's market value, claim other builders.
This has led to real estate prices going up manifold. A top sales and marketing official of Prarthana Group said they have seen a phenomenal response to their project in Sewri. "When we launched it six years ago, the land cost was 9,000 per square feet. However by the time we finished, it went up to Rs 20,000 per square feet," he said.
As chawls slowly make way for high-rises, locals wonder if the area's limited infrastructure will be able to handle the realty boom.
Residents in parts of buildings adjacent to the neighbourhood's only English medium school – Our Lady of Fatima School – situated in Shivaji Nagar that has several redevelopment projects are already complaining of water crisis.
"Until the redevelopment work started, we used to get water for over 18 hours a day. Now it has come down to only three hours," said Ivan Tauro, who runs a small grocery shop in the area. The 59-year-old has lived in Sewri since birth.
Water woes apart, Tauro and others who joined him at his shop are keen on the redevelopment of their dilapidated buildings. "Water can be a problem but then the government should fix it in advance," interrupts Radha Krishnan Ilanger, a resident of Parviar Safalya, a rehabilitation building next to Church.
Arvind Sawant, former member of legislative council, offers a more optimistic view. He said the civic body replaced all pipelines in Sewri with new ones. "Water is not an issue in this part of the city," he assures.
Until 2008, Ilanger lived in a Chawl that was worth Rs3.5 lakh. Today, her 450-sq ft flat can fetch her nearly Rs 1 crore, thanks to the redevelopment frenzy.
Another local Aspi Pastakia, a resident of Veena Beena Co-operative Society on A D Marg, near Sewri bus depot, says the redevelopment has not only hiked real estate prices in the area but is also helping it shed its 'shady' tag.
Pastakia added, "Besides mill workers Sewri earlier was also an area that had a lot of goons, who would often cause ruckus. The redevelopment has shifted many such elements out, making this place much safer than before."
When asked if Sewri's vertical growth will have any adverse affect on the pink birds visiting its wetlands, a builder said, "These buildings are being constructed in complete adherence to rules and keeping environmental concerns in mind. It should not disturb the birds' natural habitat."