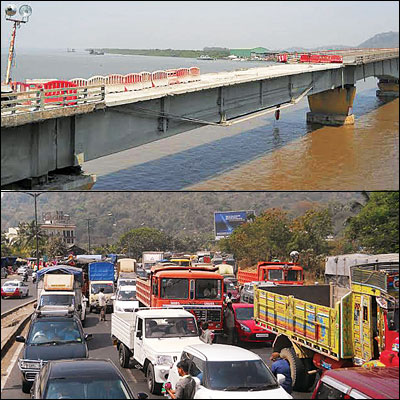 Repairs on the major road bridge over the Versova creek in Bhayandar which has been shut since December, will take another fortnight to complete, according to officials of the National Highway Authority of India (NHAI).
The repair of major cracks on the bridge was scheduled to be completed by April 15, but it has been delayed and the authority has reset the target to April 30.
The 43-year-old bridge is critical for traffic between Ahmedabad and Mumbai, linked by National Highway No. 8. It was shut on December 21, 2013, after cracks were noticed by a police patrol.
This has affected the flow of traffic to and from Mumbai which is being controlled through a second bridge running parallel.
"We had set a three-month time frame to complete the work, but the work has been delayed," an official of the NHAI said on Friday.
The NHAI had surveyed the structure, planned the repairs and outsourced the work to a company based in Ankleshwar. "Faulty sections on both sides of the 48.5metre long high-tension steel joinder are to be replaced. These sections are being transported on barges by sea," said MK Atharde, project officer, NHAI.
The official explained that the steel sections would be put in place in the next 48 hours, after which the slab work would commence. "We expect the bridge to be opened for traffic by April 30," the official said.