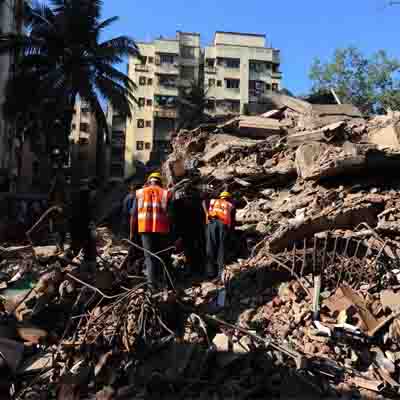 A day after a seven-storey building collapsed in Santa Cruz killing seven persons and injuring four others, local residents and a corporator on Saturday demanded that the Brihanmumbai Municipal Corporation (BMC) take action against a senior counsel, AY Sakhare, who had been appointed to represent the civic body before the Bombay high court.
A resident of the ill-fated Shankarlok apartments and an advocate by profession, Sindha Shreedharan, had filed a writ petition before the high court in 2010, challenging the BMC's eviction notice issued to her and other residents of the building, which was deemed unsafe in 2008.
The court had on October 25 last year said the occupants could continue to stay put at their own risk. After the order, the BMC moved a notice of motion and filed an affidavit before the HC, seeking to evict Shreedharan's family from the building.
According to local corporator Sunayana Potnis, the senior counsel appointed by the BMC did not show up for all three hearings slotted at the HC after the civic body filed the affidavit.
"The building was in a bad shape for long. The issue was serious as the lives of the family staying inside the building and adjacent chawl were at stake. The BMC had appointed Sakhare to represent its case against Shreedharan. Sakhare, however, wasn't serious enough," said the corporator, accompanied by her husband and Shiv Sena leader Sanjay Potnis.
Potnis added that since Sakhare didn't attend any of the hearings, junior level officials had to represent the BMC. "We demand strict action against Sakahre and legal department officials concerned," she said.
Sakhare, however, refuted the allegations. "I wasn't around for only one hearing. I made all the attempts to see the HC's stay order was lifted. We were to move the HC again on Tuesday. However, the building collapsed before we could do that," Sakhare said.
Meanwhile, residents of adjacent Catherine chawl do not know which authority they should reach out to for help. According to them, they have approached the civic body, the police and the government on several occasions, seeking help, but have been turned down every time.
"For the last two years, we have been assured help from every corner, but none of them materialised into action. We have lost all hope," said Bharat Khandare, a resident of the chawl.
Khandare said every day, a portion of the building, kept falling on the chawl. "Every time that happened, we registered a FIR with the local police. We have all the files, but unfortunately, they are buried under the debris now," he said.