'Those who accepted skivvy's incorrect info for visa must be taken to task'.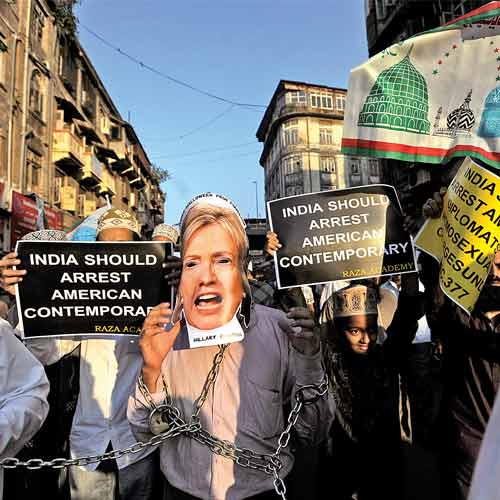 Uttam Khobragade, father of Indian diplomat Devyani Khobragade, has demanded that a criminal offence be registered against the American diplomats who had, in the first place, issued a visa to Devyani's maid Sangeeta Richard.
The senior Khobragade said that this a day after reports of the diplomat being stripped and cavity-searched appeared in the media.
Khobragade said his daughter has nothing to do with the issue and has been falsely implicated.
"The American diplomats and the maid are jointly responsible for this fraud," Khobragade told dna over the phone on Wednesday. "The Indian government must lodge an FIR [first information report] and put them behind bars," said the retired Indian Administrative Service officer, adding that Richard had willingly furnished incorrect information to obtain the visa.
"The Indian government should also prosecute the US diplomats who issued the visa to Richard... In this case, the maid too is equally responsible for lying to the US officials," he said.
The Indian government, said Khobragade, is taking the right step to teach the US government a lesson. "I'm grateful to our government and also to the people who have expressed their solidarity with us," said Khobragade.
He said his daughter is slowly recovering from the traumatic incident. "She is very composed. She attends office everyday... Many people in the US have also expressed their support to her," he said.
The retired bureaucrat said his family had never expected the maid to turn hostile. "We only wanted to support her by giving her a job. For six months, she worked peacefully with Devyani but later started showing her true colours. She demanded $10,000 and a normal Indian passport to settle down in the US. And one day in June, she simply vanished," he said.
A few days later, Devyani received a call, saying Richard was with them and that Devyani should come to her prosecutor's office if she wanted to settle the matter.
"Devyani, me and four others visited the office but the demands those people made were obnoxious. As we could not meet those demands, they slapped a case against Devyani," said Khobragade. "It's a big conspiracy against my daughter. The people involved in this sordid affair need to be exposed."