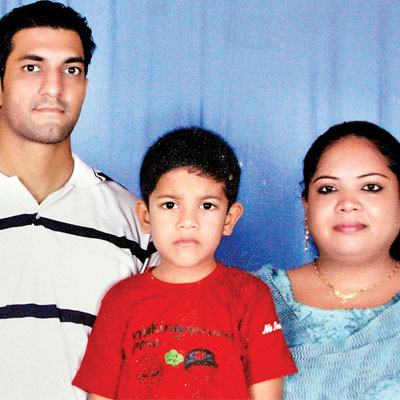 The family of Dombivali-based software engineer Irfan Jaffery, who is reportedly being held hostage in Sudan for the past three months, have alleged that they are caught in a diplomatic tangle because of which they are not able to secure the release of Irfan.
The family claimed they had collected the ransom money of Rs 32 lakh, but were not able to deliver it to the kidnappers because Irfan's employer, the Ministry of External Affairs (MEA), United Nations (UN) and the Indian Embassy in Sudan were not helping them to establish contact with the kidnappers citing UN's 'no ransom' policy.
Nafisa Jaffery, wife of Irfan, said Irfan's employer Trigyn Technologies Ltd., a multinational Information Technology (IT) firm, should have paid the money for releasing her husband.
"From the time Irfan was kidnapped, we have been getting assurances from all agencies," Nafisa lamented. "Each time I speak to Irfan, he cries like a baby, narrating the ordeal he is going through," she added.
Irfan's family has been running from pillar to post for the past three months to get him safely to India. The family further alleged that despite repeated communications with the MEA, United Nations-African Union Mission in Dastur (UNAMID), Trigyn Technologies, and the Indian Ambassador in Sudan, there was no response.
Dejected, they themselves collected the money to pay the kidnappers. "We have written to the Ambassador that we had collected the money to pay the kidnappers. But they replied saying that as the United Nations had a 'no ransom' policy, they wouldn't encourage us to pay the kidnappers. However, if the family feels that paying the kidnappers would help, they could do it at their own risk," Shakil Ahmed, Irfan's uncle, said.
Syed Akbaruddin, spokesperson, MEA, said: "We are in touch with the United Nations, the Sudanese government, the company concerned and the victim's family. We are doing our best in the case."
He refused to comment further in the matter.
Parthasarathy Iyengar, company secretary, head, Legal and Administration, Trigyn Technologies Ltd, said: "Currently the UN is taking the lead in managing Irfan's case, with concurrence from government of India and support from the government of Sudan to ensure the safe release of Irfan Jaffery. For any more details you may kindly contact the Ministry of External Affairs."
On March 11, Irfan Jaffery, an Indian IT engineer, was abducted from outside a Turkish restaurant in Al Faser area of Sudan, and since then, he has been held hostage. Irfan was posted in Sudan more than four years ago.