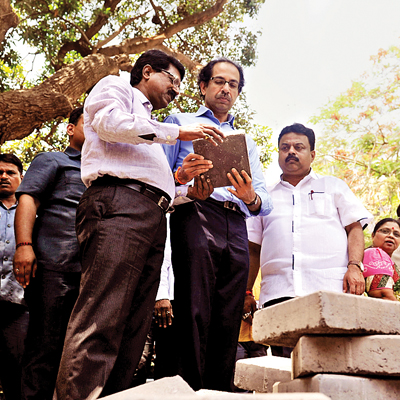 Shiv Sena president Uddhav Thackeray, whose party rules the BMC, on Saturday claimed that Mumbaikars will face fewer potholes this monsoon as compared to previous years. The saffron party leader's assertion came after he inspected construction of seven major roads in South Mumbai.
"There are a few roads that are being constructed, work on some is already over. While many roads in the city need repairs, what I saw today was very promising. I would not say that Mumbai will not see any potholes, but definitely the numbers should go down," said Thackeray.
Last year, city roads had seen nearly 40,000 potholes following which Thackeray had apologised to the citizens over the shoddy work.
However, the picture may not be very promising if sources in the civic body are to be believed. They say though the BMC has taken up several road projects, many of them are far from completion. Also, work on minor thoroughfares has been ignored as the roads department has given preference to concrete roads, they said.
The sources said that every year, the BMC waits for potholes to appear before undertaking any repair work. "So by October, we will be able to know how much work needs to be done and the quality of work. This year, the maintenance work has been given to the ward office. This means the blame can be passed easily," said a source.
According to Laxman Vhatkar, director of engineering services and special projects of the BMC, citizens can expect smoother ride on city roads in next three years. He said they have undertaken several project under a 'mega plan' for Mumbai and they will be completed in next two years.
"Whenever we plan for a road project, we need to prepare a list of utility agencies to be included for the work. Apart from our own departments, the private firms are also asked to complete their jobs. This delays the process. At times, we don't get permission from the traffic department which further affects our schedule. Still we have managed to complete most of the major roads," said Vhatkar.
This year, the BMC has undertaken 15 projects worth Rs1,500 crore. Vhatkar said they have completed completed 24kms of cement concrete roads and and 40kms of asphalt and mastic asphalt roads so far. Under its three-year mega plan for repairs, the civic body will be overhauling the entire road network of Mumbai, spanning 2,000kms, at a cost of Rs7,500 crore.
BOX
Uniform road-pavement height
According to Ashok Pawar, chief engineer (roads), they have asked the contractors to keep the uniform distance between roads and footpaths. He said, "We took this decision as at several places, the height of the footpath is much above the road level and this makes difficult for citizens to use them."
Experiment of Cement blocks instead of paver blocks for footpath in Walkeshwar
With several complaints against inferior quality of paver blocks, the BMC has tried to experiment with cement blocks on a footpath opposite state guest house Sahyadri in Walkeshwar. Thackeray said, "If the quality of these cement blocks prove to be more durable, we can replace paver blocks with them."