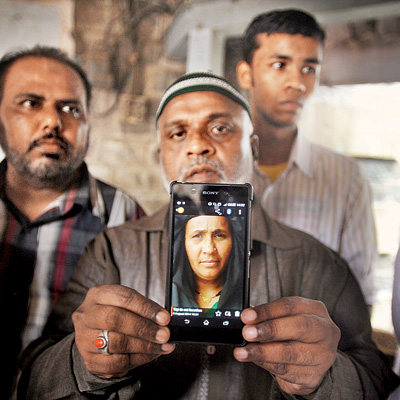 A 47-year-old woman died on Tuesday night, 24 hours of suffering an adverse drug reaction (ADR) due to administration of antibiotic injections at BMC-run Kurla Bhabha Hospital.
What happened?
Saira Shaikh was among 28 women who were given the third generation cephalosporin antibiotics Cefotaxime and Ceftriaxone on Monday night. Within 15 minutes of receiving the injections, the women started shivering and developed breathlessness. Saira and 15 others was shifted to KEM hospital on Monday around 1.30am.
While the others stabilised after the initial treatment, Saira's condition continued to remain critical. "She was shifted to the ICU and was kept on oxygen support. She threw up green vomit and her tongue had turned black," said her husband Noor Mohammed Shaikh, 52, who works as a real estate agent in Kurla. "By Tuesday evening, the doctors had told us there were meagre chances of her survival and all we could do is pray." Around 10.45pm on Tuesday, Saira died in KEM.
How did Saira's condition deteriorate?
Saira was suffering from typhoid and was admitted to Kurla Bhabha Hospital on Sunday, said her relatives. "By the next day, she was doing fine and was to be discharged in a few days. The doctors' started their rounds after I left... when the injections were administered there was no one by her side," said a teary-eyed Noor Mohammed. "A few of my friends happened to hear the commotion of patients being shifted to KEM and Sion. They helped Saira into an ambulance and brought her to KEM."
Doctors at KEM said her platelet count had dropped to 40,000, her red blood cell count and white blood cell count had also dipped precariously. The normal platelet count is between 1 lakh and 1.5 lakh. "Saira slipped into pan cytopenia when her RBC, WBC and platelet count reduced. Her lungs had collapsed and her blood pressure had dropped to dangerously-low levels," said Dr Shubhangi Parker, dean, KEM hospital. On the family's insistence for a fair probe, Saira's body was shifted to JJ hospital for post-mortem.
About the injections
Over 3,000 vials each of Cefotaxime (batch number CT-SM10403), manufactured under the name Sanocef by Sanjivini Parenteral Drugs, Navi Mumbai, and Ceftriaxone (batch number 314-331) manufactured under the name Sefxim by Jee Labs, Himachal Pradesh, were supplied by the Brihanmumbai Municipal Corporation (BMC) to Kurla Bhabha Hospital.
How and where were they stored?
The injections were stored at room temperature in the hospital's drug store in a dry cupboard and there does not seem to be a possibility of external contamination, according to Dr Suhasini Nagda, director, BMC-run hospitals.
What is the civic body saying?
Nagda said, "Of the total, 2,170 vials of Sanocef and 2,320 vials of Sefxim had been sourced in March and June and were distributed in all the hospital wards in July. The medicines had not expired. We are awaiting FDA test results. The drugs could have exacerbated Saira's underlying condition. This is a serious situation and an expert committee of pharmacologists and medical experts will be formed to ascertain the cause of the incident."
What action has been taken so far?
While samples of injections have been seized by Food and Drugs Administration officials for toxicity tests in the lab, blood samples of the deceased have been sent to Kasturba hospital to conduct Polymerase Chain Reaction tests to rule out probable conditions of dengue, malaria and leptospirosis, among other diseases.
What questions were raised in the BMC standing committee?
The committee was in furore following the incident. The injections were also given to four men. Shiv Sena corporator Anuradha Pednekar said the problem could also be because of the way the medicine was administered in the female medical ward. "How come the men who were administered the medicine didn't have a problem?" she asked. The standing committee has asked the BMC administration to provide a detailed report on the issue within a week.
In a nutshell
On August 18, 28 of the 32 women in female medical ward of Kurla Bhabha Hospital developed shivers, breathlessness, pain in the chest and head, and vomitted after antibiotic injections Ceftriaxone and Cefotaxime was administered to them at 9.30pm
By 1.30am, 13 were shifted to Sion hospital and 15 to KEM hospital
Saira Shaikh, 47, was critical while being admitted to KEM hospital
She succumbed after her condition worsened within 24 hours of the adverse drug reaction