A vacant building in Santacruz East collapses on the adjacent chawl.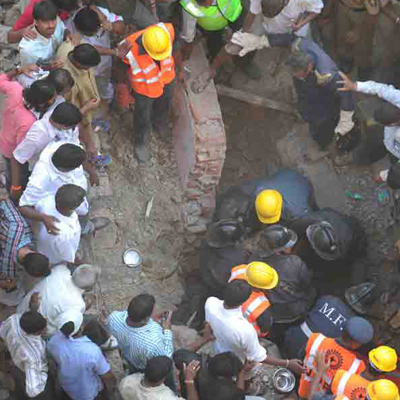 Two persons were today killed and four others injured in a building collapse in suburban Santacruz East and more casualties were feared, officials said.
Three of the four injured - Sita Kesarkar, 60, Akshay Kesarkar, 18, and Rohini Jagtap, 47 - were admitted to a hospital.
"Two more children are believed to be trapped under the debris. Three people who suffered injuries have been admitted to a nearby civic hospital," an official of the Brihanmumbai Municipal Corporation (BMC) disaster management cell said.
Rescue operations by the fire brigade personnel and the National Disaster Relief Force (NDRF) were on till late in the evening and officials feared more casualties.
The dead have been identified as Chandanben Kantibhai Patel (50) and Sudha Sridharan (32), a BMC official in its disaster management cell said.
The vacant seven-storey Shankarlok building, located in Yashwant Nagar near Grand Hyatt Hotel in Santacruz East, collapsed this afternoon.
The dilapidated building fell on the adjacent chawl, trapping several people under the debris, the official said.
The building was served with demolition notice in 2007, 2008 and 2010, a senior BMC official said.
"However, the matter was taken to court and the demolition was stayed," the official said.