Senior citizens killed in Saki Naka when a dumper truck hit the auto they were travelling in.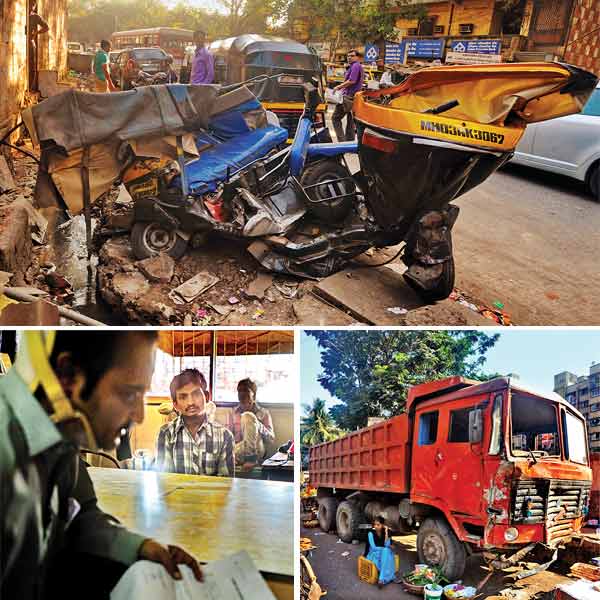 Two senior citizens died on the spot while their 30-year-old relative and the driver of the auto-rickshaw they were travelling in sustained severe injuries after a speeding dumper truck hit the three-wheeler on Andheri-Kurla Road in the wee hours on Thursday.
The deceased duo – Tejbahadur Yadav (65) and his cousin Hooblal Yadav (60) – and their relative Ram Singar Yadav were heading for Kurla Terminus as they were supposed to board the Ratnagiri Superfast for Uttar Pradesh (UP). Instead of helping the victims, the dumper truck driver ran away from the spot, leaving his vehicle behind.
Ram Singar is in the ICU of Rajawadi hospital in a critical condition, while the auto driver, 32-year-old Ashok Gaud, is out of danger.
Tejbahadur, who lived in UP along with his wife, was in the city to visit his sons Rajesh, Kamlesh and Vimlesh, who are based in the Filterpada area of Powai. In fact, Kamlesh had invited his father and uncle to take them to Shirdi as he had recently purchased a new car. So, the duo came to Mumbai for the first time on December 5 and visited Shirdi on December 9.
According to the police, the incident took place around 4.10am when Tejbahadur, Hooblal and Ram Singar were on their way to Kurla Terminus in an auto driven by Gaud, who is a friend of Kamlesh. Ram Singar is a vegetable vendor and he also lives in the Filterpada area along with his wife and five children.
When they reached the Andheri-Kurla Road in the Safed Pool area of Sakinaka, a dumper truck coming from the front in a very high speed ran over the auto.
After hitting the auto, the dumper truck dragged it towards the compound wall of a company beside the road. As a result, the auto got crushed between the wall and the truck. Tejbahadur and Hooblal sustained severe injuries and died on the spot, while Ram Singar and Gaud were admitted to the Rajawadi hospital.
"Kamlesh had reached the Kurla Terminus early and kept waiting for his father and uncle. When they did not reach till 5pm, he called on Ram Singar's mobile number and the call was answered by a policeman, who told him about the accident. When Kamlesh reached Rajawadi hospital, he found his father and uncle dead," said Dharmaraj Yadav, a relative.
"Passersby informed the police control room and police vehicles from both Sakinaka and Andheri police stations rushed to the spot. The victims were immediately taken to Rajawadi hospital. The dumper truck driver had run away, leaving the vehicle on the spot," said a police officer.
"We have seized the truck and arrested the driver from his residence. He has been booked for causing death due to rash and negligence driving," said senior police inspector Prasanna More of the Sakinaka police station.