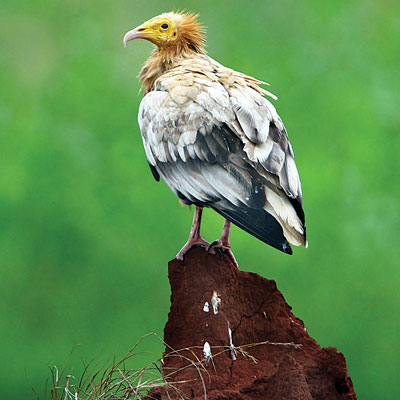 Two more species of vulture — the Egyptian Vulture and the Red-headed Vulture — have been added to the list of vulture species affected by the killer drug Diclofenac, a recent study has shown.
The Cambridge Journal paper is based on ongoing studies conducted by the Bombay Natural History Society (BNHS) and the Royal Society for Protection of Birds (RSPB) over the past two decades, which showed a drastic drop of over 98% in the number of vultures.
Until now, conservation efforts were focused on three species belonging to the Gyps group of vultures — the Slender-billed Vulture, White-rumped Vulture and the Long-billed Vulture. Prior to this, there was no physical evidence of Diclofenac in the carcasses of species other than these three but the ban on Diclofenac seems to show population recovery in the Egyptian and Red-headed vultures too, indicating that they could also have been affected by the drug.
BNHS now plans to carry out further research on these two species along with the three Gyps species. "The partial recovery of vulture numbers after the ban shows that strong research and advocacy go a long way in effective conservation. Further research should also focus on the current status of Red-headed and Egyptian vultures," said BNHS director Asad Rahmani.
The 40 million-strong population from around 15 years ago fell to a few thousands within a few years and as scientists scurried to look for the cause, it was years before they found a painkiller called Diclofenac responsible for the mass genocide of vultures. This drug was administered to cattle and caused kidney failure in most vultures who fed on their carcasses after they died. Diclofenac was banned in India in 2006 and followed by most other vulture inhabited countries after the urgency of a ban was highlighted.
Vultures, who are on the IUCN list of critically endangered birds, are not only elusive and slow breeding creatures but are very hard to document according to avian experts. It is impossible to determine their exact numbers and their population is estimated through sightings. They are on the IUCN list of critically endangered species. BNHS and RSPB have joined hands to create Vulture Safe Zones (VSZ) across the country to try captive breeding of vultures to prevent them from going extinct.
Why are vultures important?
Vultures are natural cleansing agents who safely consume decaying and diseased carcasses before they lead to spread of diseases.
Due to the drop in vulture population, numerous dogs have taken up feeding on these carcasses and have led to increased transmission of diseases such as rabies.
They hold spiritual importance for the Parsi community who rely on them for disposal of their carcasses as they do not believe in polluting any form of the environment.