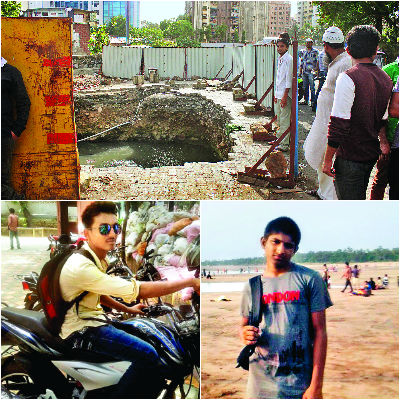 Two youngsters lost their lives after the motorbike on which they were travelling fell into a trench in a western suburb. Being just 16, they wouldn't have had the licence to drive a bike. It's not known whether the two were wearing helmets at the time of the accident. The police say it's a trend now for youngsters in the city not to wear helmets while riding two-wheelers.
Who were the youngsters?
Riyaz Ahmed Siddiqui and Zuber Ahmed Rafiq Khan. They were returning home from their college on Saturday on a bike when the incident took place. According to a member of a family, the youths were on fast as this is the month of Ramzan. Zuber was a junior college student in Kandivli. Riyaz's family couldn't be contacted.
Where did the accident take place?
At Kandivli (west) on Saturday. The incident reportedly took place at the far end of the Mathuradas Road, near Atul Towers.
How and why did it happen?
The two apparently broke through a BMC steel barricade put up at a micro-tunnelling site and fell into a pit the sewerage operation dept was digging. According to locals, the BMC had dug a 20-ft pit at the accident site a couple of months ago. A senior civic official said the department was carrying out some micro-tunelling work in the area. "However, we had put steel barricades. The bikers broke through and fell into the pit," the civic official said.
What the family says
Shakeel Khan, Zuber's elder brother, was visibly shocked. "I don't know what to say. It's sad my brother couldn't celebrate Eid this year," he said. Khan said the family hadn't yet decided whether to complaint against the civic authorities or not. "What kind of a complaint do we give. My brother is no more. What's the use in complaining now"?, he asked.
What hospital authorities say
Kandivli's Shatabdi Hospital authorities said the two had been brought to the hospital between 1.55pm and 2.05pm. "Both were declared dead on admission. Their bodies were covered in muck and filth, and have been sent for autopsies to the state-run post mortem centre at Bhagwati Hospital in Borivli," said the medical officer on duty at the hospital.
What police say
Pratap Dighavkar, deputy commissioner of police (traffic) said: "It is now being observed that youngsters, especially minors, are riding two-wheelers without wearing helmets. Many youngsters do not have licence. We are keeping a strict vigil."