Work has started on setting up a new container terminal on the Port-lands of Mumbai. dna takes a closer look to find out what it holds in store for the island city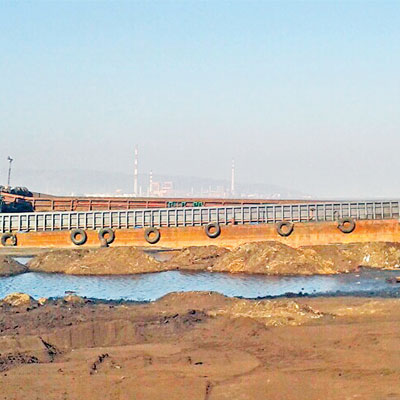 Activists, environmentalists and concerned SoBo residents have been opposing the new container terminal by Mumbai Port Trust (MbPT). The port-lands that are a mere five-kilometre from CST are undergoing work for the humongous 1.2 million TEU container terminal.
Background
This uninhabited government-owned port area extends from Yellow Gate and covers the entire freeway. It has several abandoned warehouses and godowns, as all the port-related container traffic was shifted from MbPT to Jawaharlal Nehru Port Trust (JNPT) in 1989. Debi Goenka, member of Bombay Environmental Action Group, says, "When JNPT was commissioned, we had not opposed it as the container traffic had moved outside the city. This freed vast tracts of land, making space for much-needed parks and gardens."
What is the catch?
Building open, green spaces here is a viable option as there is no need to reclaim land. This harbour land has been lying unused for decades though several builders have been eyeing it. Even though the lease of these warehouses expired a long time ago, they are allegedly still held by those companies, thereby paving the way for builders to exploit the situation. Many locals are apprehensive that the government may give the land to builders.
Meera Sanyal, board member of Pradan and member of the international board of Right to Play, says, "I do not understand why the project has been undertaken, considering that it is unviable both commercially and technically, and will lead to major traffic congestion. However, since the jetty has already been built, it can be used for something more useful."
With around 11,000 trailers and trucks accessing the city every day, a cargo terminal in South Mumbai will lead to major traffic congestion and safety issues. Though the jetty has already been built, the project is not feasible technically because big container ships need the natural depth of the seabed to be at least 15m deep. However, the site has a depth of only 5m and it is not feasible environmentally to deepen the draught.
The fact that this project has been approved despite JNPT planning a multi-crore project to double its size is intriguing. More so, as JNPT is merely 10 miles away from the MbPT site.
Coal dump
Sanyal highlights another problem—huge quantities of coal is being dumped here. This is a health hazard and is in gross violation of environmental laws. She says, "The MbPT is unloading 1.8 million tonnes per annum of coal at Haji Bunder. The coal is unloaded using excavators and open trucks, resulting in huge coal spillage. The coal stacks that vary from 10,000 to 2.03 lakh tonnes spread coal dust in the area. A clear and long-term danger, is exposure to coal dust, which causes chronic obstructive pulmonary disease. Also, spontaneous combustion of coal stacks is a hazard unreported by the port; incomplete combustion produces dioxin, a carcinogen. Though the Maharashtra Pollution Control Board has laid down stringent conditions for the handling of coal, so that it does not cause a nuisance or air pollution, these terms and conditions are being blatantly flouted by the MbPT with impunity for years."
P Mohana Chandran, secretary, Mumbai Port Trust, was not available for comment.