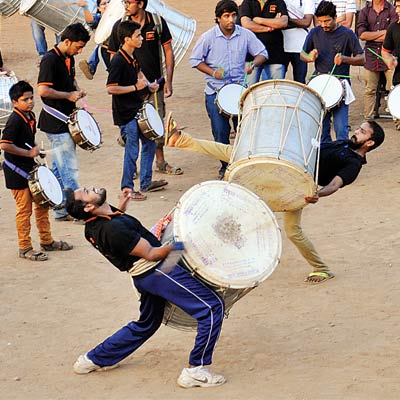 It's triple happiness this Monday as Gudi Padwa, Ugadi and Cheti Chand will be celebrated by all. The festivals that are normally observed by four different communities will see rallies, rituals and prayers through which the New Year will be welcomed.
While Gudi Padwa is celebrated by Marathi speaking population mostly, Ugadi is celebrated in Karnataka and Andhra Pradesh, in some cases only in certain parts of the state. Cheti Chand is the festival of the Sindhi community.
In Maharashtra, Gudi Padwa has some mythological tales associated with it too. One is that Lord Ram arrived victorious in Ayodhya after defeating Ravana, because of which the Gudi is seen outside every house on this day, another reason is that Lord Bramha created the universe. The Gudi, hence is symbolic of victory over evil.
People get a treat of sorts while watching lejhim dance performance, dhvaj patak and warfare tactics during the time of Shivaji. "We take out rallies in the area that has cultural performances including dhvaj patak rally and lejhim dance," said Yogesh Prabhu, president of Swami Vivekanand Yuva Pratishthan that organises such rallies. This year 100 years of Bollywood and the vision of Dadasaheb Phalke will be shown.
While there is a certain pomp in the celebration of the Gudi Padwa, Cheti Chand is mostly celebrated by visiting temples. Ugadi is celebrated by performing certain rituals at home and then going to temples. "People take an oil bath in the morning that is followed by having neem an jaggery. Neem and jaggery are eaten on this day because one should know that life will have disappointments and happiness," said Dr BR Manjuhanth, who traces his ancestry in Karnataka.