Mumbai Police launch initiative for women's safety on International Women's Day.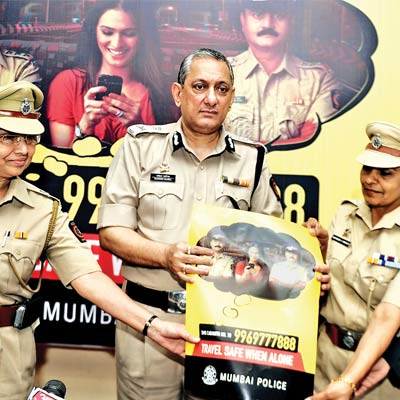 'Travel safe when alone', the latest campaign by the Mumbai Police to ensure women's safety in the metropolis, was launched on International Women's Day on Saturday.
The idea is to make sure that women who take public transport and feel unsafe can get in touch with the police by sending an SMS about their location, destination and the registration number of the vehicle to 9969977888, a toll-free number. Soon, RTOs are also going to be asked to make sure that all taxi and autorickshaw drivers compulsorily display the toll-free number on the dashboard of their vehicles.
Police commissioner Rakesh Maria said the SMS sender's mobile phone number will be saved in the server, which can hold up to 1 crore such messages, and will be referred to as and when required.
The Mahanagar Telephone Nigam Limited (MTNL) has partnered with the Mumbai Police in this initiative.
Police officers said this number is not a helpline like 100 and 103 and will only store details which can be accessed later. Also, only an SMS can be sent on this number.
The initiative was taken after the Esther Anuhya murder case, in which investigating officers were struggling to ascertain which mode of transport the 23-year-old techie had taken from Kurla terminus, after which she went missing.
Maria explained that once a woman sends an SMS on this number, she will immediately get a call on her mobile phone as an acknowledgment and, through this, the police will know her location too.
"The mobile phone number of the SMS sender will be directly linked with the registration number of the vehicle in which she is travelling so that the journey can be monitored," said Vineet Agarwal, home department secretary (special).
Officers are hopeful that the initiative makes cab and autorickshaw drivers behave as they would know they are being watched.
Executive director of MTNL Piyush Agarwal said, "In the Delhi gang-rape case, the mobile phone of the victim was taken by the accused, who felt confident that doing so would ensure they don't get caught.
However, now, with this initiative, even if a victim's mobile phone is taken away, police will still be able to trace her."
Explaining how the software works, Maria said as soon as an SMS is received, it will be updated along with the mobile phone number and the date and time. The name of the service provider and contents of the message will also be fed in the database. Just by clicking on the date/time option, one can obtain the location of the sender and, on clicking on the phone number, one can access the sender's name and address.
Maria also said that to solve the problem of shortage of policewomen in the department, 600 from other departments were roped in last week. With this, now, every police station will have at least 18-25 women personnel. Along with this, the government has approved a sum of Rs3.66 crore for improving facilities for policewomen at every police station.
A meeting was held recently between the city police and various railway security agencies and a unanimous decision was taken to set up a desk at six important termini — CST, Mumbai Central, Bandra, Kurla, and Borivli — to regulate and monitor taxi services. Taxi and autorickshaw drivers will be barred from entering the station premises and solicit customers. Taxis will be asked to queue up on one side and passengers on the another.
Such desks will be set up at two ends of the station at designated locations. Women and senior citizens will be given priority. Announcements will be made inside stations, asking commuters to head to this desk if they need public transport.