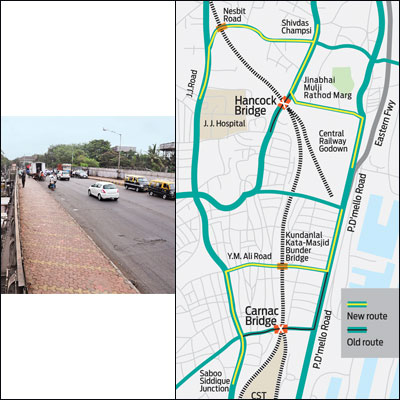 The monsoon is almost here, and the initial plan was to demolish both Hancock and Carnac bridges before rains come down hard. However, the Brihanmumbai municipal corporation (BMC) is still awaiting a reply from the traffic police on drawing up a plan to close vehicular and pedestrian traffic on these two major bridges before demolition work starts.
The two, the 135-year-old Hancock Bridge, the stone bridge between Sandhurst Road and Byculla stations, and Carnac Bridge, built in 1868, that lies between Chhatrapati Shivaji Terminus (CST) and Masjid station, were declared dangerous last year. There was a six-month long stand-off between BMC and Central Railway on who should fund the demolition and rebuilding of these bridges.
According to civic officials, a meeting on the issue was held between CR officials and traffic police officials on May 26. Following this, civic officials wrote to traffic cops requesting them to chalk out a plan to completely shut down vehicular/pedestrian movement on both these bridges.
"CR wants to demolish the bridge before the monsoon fury, but we are yet to hear from traffic officials on this. Only after they respond, can CR start demolishing portion of the bridges over the railway stations," said SO Kori, chief engineer (bridges), BMC.
The agreement on demolition work is that CR would do the job and BMC would fund it. The civic body has even invited tenders for rebuilding the bridges, which it plans to start after the monsoons. The cost to rebuild portions of the bridges above the railway stations has been estimated at Rs30 crore.
While traffic police have issued notifications to stop movement of heavy vehicles on the bridges, for which traffic diversions have also been created, cops say completely cordoning off the bridges would be a tedious process, as there are several other things also to be taken care of.
"We have to consider issues like diversions, alterations, vehicle movement, traffic volume on the road that has to be repaired, putting up signage and deployment of traffic policemen. We have a set procedure for such requests from the BMC. We have to ensure people are not trapped, and have to consider several issues before we give the nod for the work," said Qaiser Khalid, additional commissioner of police, traffic.
Carnac Bridge
Length: 363 metre, width: 17.6 metre
Length of part above railway stations: 60 metre
Hancock Bridge
Length: 288 metre
Width: 18.6 metre
Length of part above railway stations: 55 metre