Dr BK Upadhyay, joint commissioner of police (traffic), underlines the things we must do to make traveling by road better.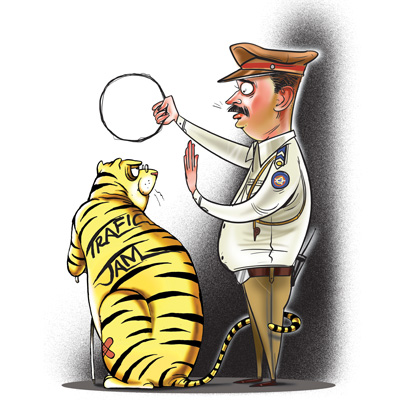 1. Restrict registration of vehicles
There should be a limit on the number of vehicles registered per family, as usually residential complexes allot parking space for just one vehicle per family and as a result those owning more than one vehicle park them on public roads. Besides, families using more than one vehicle increases traffic congestion.
2. Provide ample parking space
The authorities should provide sufficient space for parking so that vehicles are not parked on the roads.
3. Streamline licensing process
The licensing process must be streamlined and enforced strictly. Today, almost anybody can get a driving licence. There is no proper system to ensure that the applicant is fully aware of the traffic rules and regulations.
4. Enforce discipline strictly
Some motorists race their vehicles and overtake dangerously disrupting the flow of traffic and leading to fatalities. Traffic discipline must be enforced. CCTV cameras should be used to deal with those flouting norms and the police should be equipped to issue electronic challans.
5. Improve roads
The poor condition of roads is a major cause for disruption of traffic and even accidents. Similarly, hawkers occupy important footpath space meant for pedestrians, who consequently walk on the road. Roads must be maintained properly.
Read more about dna's 9th anniversary celebrations
6. Tighten traffic rules
Motorists are not bothered to follow the rules as the penalty for violation is not much. The law should be stricter and the fines stiffer so people think twice before breaking the rules. Those caught for repeated violation of rules must be punished with permanent cancellation of licence.
7. Encourage carpooling
Carpooling is an effective way to reduce traffic jams and save money which is not common in Mumbai. Carpooling, even sharing of taxis and rickshaws, by people traveling in the same direction should be encouraged.
8. Public transport connectivity
The authorities encourage people to choose public transport over private vehicles to ease road congestion. But it's necessary to improve connectivity to make traveling by public transport convenient.
9. Levy congestion charge
Introduce a congestion charge for parking in areas that are prone to traffic jams, particularly in peak hours. This would discourage motorists from entering such areas.