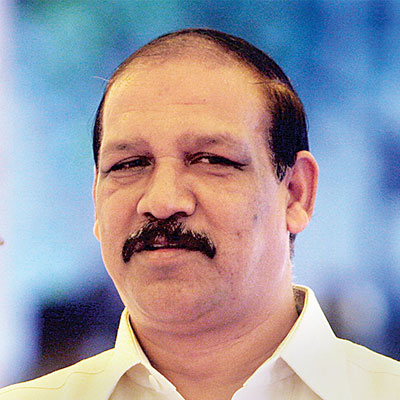 Expelled NCP minister Vijay Kumar Gavit will have tough times ahead. He was sacked on Wednesday after his daughter, Dr Heena Gavit, joined BJP. And she has been given a ticket from Nandurbar Lok Sabha constituency, where she will take on ten-time MP Manikarao Gavit of the Congress.
The problem now for Gavit is that he cannot join the BJP because the Congress-NCP combine is threatening to put him in jail in connection with a slew of scams allegedly involving him.
"Most of the cases are in advance stages of investigation. And the Congress can rake them up as a revenge for betrayal," said Chandrakant Raghuwanshi, Congress MLC.
According to Raghuwanshi, Gavit was involved in the Rs 6,000 crore tribal development scheme scams. The high court has appointed the Gaikwad committee to thoroughly probe the matter and submit its report.
"The state government has also issued notification appointing the committee. It's likely to submit its report in a short while. Once that comes about, action would be taken against Gavit," said Raghuwanshi.
The allegations are that as the tribal minister Vijay Kumar Gavit bought various items at inflated rates submitting fake bills. In just one day, Gavit's tribal department bought 200 buffaloes and cows from the Dhule animal market.
"Each buffalo cost them Rs 38,500 as per the bill submitted; the budget limit was Rs 40,000. How is it that all the animals cost the same? The cost of cows and buffaloes depends on how many times they have delivered. Corruption of similar nature was reported in buying items like gas burner, etc. Gavit pocketed the money gained through corruption," alleged another Congress leader from Dhule.
Gavit's family is very ambitious. His wife was chairman of Nandurbar Zilla Parishad; his brother Sharad Gavit is in the Samajwadi Party; brother-in-law Jagdish Valvi is the Congress MLA from Chopada in Jalgaon district.
"Now, his daughter wants to become an MP. Dr Heena Gavit left medical education midway to join politics. It's a waste of one medical seat. Some other tribal student would have benefited. They are a selfish lot," said one tribal doctor from Nandurbar.
Sources said Gavit had committed political suicide by allowing his daughter to join the BJP. It was due to NCP chief Sharad Pawar's cordial relations with the Congress that most of the cases against Vijay Kumar Gavit were either suppressed or put on hold. "Now, he no more has the protection of the NCP. If BJP does not come to power, then Gavit will have a tough time and may even be put behind bars," said a senior NCP leader.