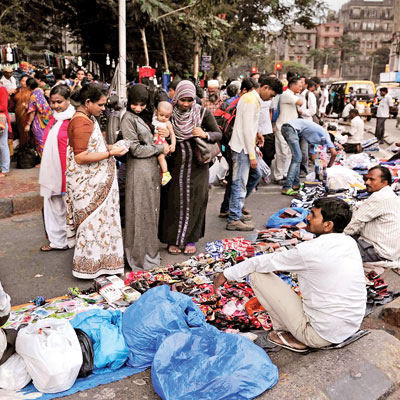 As you come out of suburban stations like Dadar (WR), Andheri (W) or Chembur (E), if you get the distinct impression that there are no pavements in these areas, you wouldn't be far too wrong! Pavements, there are. But they have simply been taken over by the ubiquitous hawkers.
In most areas, especially in the vicinity of stations, hawkers are a law unto themselves. But in reality, they draw their strength from syndicates that control them. These people are seldom seen, but it's they who hire out pavements and even roads to hawkers on rent. Hawkers get protection in return. The syndicates grease the palms of the babus (in Municipal Corporation of Greater Mumbai (MCGM) licence department) and the police.
Munnai Kelawala of Ghatkopar is one such pavement lord. He has at least 3,000 hawkers under his 'jurisdiction'. An illiterate migrant from Uttar Pradesh, he wields enormous clout in N&L-wards spread across Ghatkopar and Kurla. He reportedly rakes in about Rs 10 lakh a day; and part of it goes to you know who!
"He is the real Munnabhai. Everyone is on his payroll. No wonder, pedestrians are forced to walk on roads," said Mangal Bhavshar, a Ghatkopar resident.
Munna Kelawala is by all reckoning the don of the hawking community. He lords over smaller syndicates, whose leaders are referred to as 'chuhas' or rats. The 'chuhas' patrol areas under their control on motorbikes and collect 'haftas'. Any aspiring hawker has to contact the 'chuha' in the vicinity, who settles the business for him and is blessed by 'Munna'. A hawker has to pay a deposit and a monthly rent.
"In Grant Road area, most hawkers are under the thumb of one Mukhtarbhai, said Gunwant Seth, a former corporator: "It's a well-organised racket in D-ward with the syndicate's tentacles spreading even to the posh Walkeshwar area."
These syndicates enjoy political patronage. When Ramesh Pawar, the then assistant municipal commissioner of K/west-ward tried to evict hawkers who had captured half of the arterial SV Road outside Andheri station, he was stopped on his track by a powerful politician. Similarly, a Congress leader in Bandra ensures that hawkers in Linking Road remain untouched.
A few years ago, the shopkeepers' association of Dadar and Chembur had even hired private guards to keep the area near the station free of hawkers. But after a few weeks, these guards had to be withdrawn because of threats from the syndicates.
Viren Shah, president, Federation of Retail Traders' Association, said: "In 2009, the Supreme Court ruled that no hawking be permitted near railway stations. So, nothing prevents MCGM from removing hawkers. But they are now taking advantage of the national hawker policy and are refusing to move till the town vending committee demarcates hawking and non-hawking zones."
There are some hawkers, however, who prefer not to pay 'hafta' to syndicates. But they are the pet targets whenever the licence department decides to act. During raids, if you have noticed, the civic staff who swoop down on hawkers, confiscate the goods of only some hawkers, while others are spared. It's simple; those that are targeted are those who cannot afford to pay 'hafta' or weekly bribe. The hawkers enjoying protection of the syndicate scoot, as if on cue, from pavements or roads, hide their wares in compounds of nearby buildings and return when the coast is clear.
Who gets money
"What goes on is a charade named 'hawker removal,'" said Ashwin Rao, an activist.
Money to the police is divided among five officials—beat officer, beat constable, beat marshal, beat PI and senior P I. In some areas, money reaches even assistant commissioners.
In BMC, the division is even simpler. The main agent hands over money to officials in the offices of removal of encroachment department, licence department staff, building and factory department, maintenance department and ward officer. At times bribe even reaches the level of the deputy municipal commissioner.
"I have five unlicensed stalls in Kandivli market and pay different amounts to all," said Mustaq Anwar (name changed), who sells goods ranging from handkerchiefs, hair clips, fashion accessories to plastic products.
"Prime locations are almost auctioned off. The one who pays more gets the better place," said Mustaq, who is a part of small local union. A union generally comprises 20 to 30 hawkers, who pay regular rent to the 'union leader', who comes to their rescue when BMC initiates eviction drive.
These unions are nothing but small well organised groups. A union leader (broker) handles the daily affairs of 15 to 20 hawkers. 'Hafta' is collected daily, weekly or monthly as per the group's convenience. But the brokers have to pay the agents on a monthly basis. A group of brokers in the market report to agents. And the group of agents report to their bosses, who are directly in touch with the police, BMC and politicians.
Interestingly different agents deal with different authorities.
Trust and integrity
"Hamara aur municipality/police ke saath choli daman ka rishta hai. Kisi ek ko dursare ke bina nahi chalta. Though this is completely illegal, we work on trust and total transparency. No one cheats anyone. We all depend on each other. So integrity is the key. Even civic officials, police and politicians have to trust us. And we don't dare ditch them," said a broker.
Hafta, which brokers call protection money, runs into lakhs and the annual turnover of the entire city is anywhere between Rs 1,000 and 1,100 crore.
"Ever since the Supreme Court ruled favouring hawkers, they have become adamant and are waiting for BMC to implement the rehabilitation scheme," he added.
Raids
If hawkers don't pay, the reaction is instant. Civic authorities swing into action after a weeks' time. "They (brokers) show no mercy. If you don't pay even once, BMC is bound to take action against you. The licence department sends vans and seizes goods from hawkers who have not paid.
Hawkers dread this, as once goods are seized getting them back involves a lot of paper-work and penalty.
"Those paying protection money need not worry, however. Brokers alert them. Civic officials alert brokers and agents 20 minutes before the 'chor gadi' starts from the ward office. Similarly, when vans from Bombay Special Flying Squad are on the job, hawkers are informed an hour in advance," said a hawker in Andheri West where raids are frequent.
At times, raids are a big farce. Vans from licence department are simply parked in the market area for over two hours and then leave without taking any action.
"There is a lot of money involved in the business. Nobody wants to change the system. Why would one want to break the syndicate and incur losses? It's humanely impossible for the civic administration to employ its staff on eviction drive every day. Political pressure and money play very important roles here. So nothing is going to change," said a union leader, who is part of the group waging the legal battle for the hawkers.