It is the tail end of the summer holidays butthere is still plenty of fun activities your children can enjoy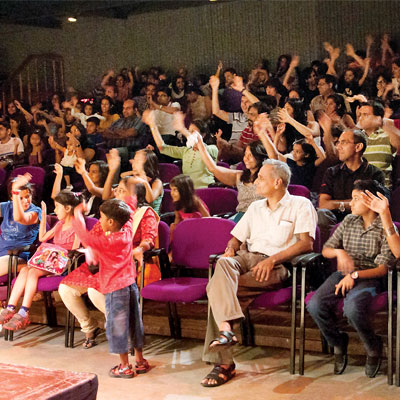 National Centre for the Performing ArtsThough the holidays are nearly over and yet the battle of boredom is still to be won, fight it with NCPA's Summer Fiesta. Restless children can trawl through a clutch of activities—twinkle-toed children can pirouette and plie their way through Shiamak Davar's dance workshop; tiny stars can explore tragedy, comedy, horror and drama in theatre workshops; little artists can enjoy a coffee-painting workshop with Trishna Patnaik; and Marvel fans can learn how to create their own graphic comics under the expert eye of visual artist Shawn Lewis. Lewis, an artist based in Grant Road, draws from myriad sources. "For this workshop, we will be working with comics from Spain," he says.
For those who would rather sit and stare, NCPA will be hosting plenty of family-friendly plays and performances. There are heaps of adaptations of well-known children's stories, such as Aladdin's Magical Lamp, Alice in Wonderland and The Wind in the Willows; a Hindi play, Tunni ki Kahani, in which a little girl wanders off into one of the stories she has read; and the piece de resistance—a show choreographed by the Shiamak Davar dance troupe.
Bombay Natural History Museum
The Bombay Natural History Museum (BNHS) has long been taking adventurous children up hill and down dale through wildlife sanctuaries and nature reserves across Maharashtra. Closer to home they have their botanical walk in Rani Baug in Byculla. Here, under the bursts of the bright Flame of the Forest and laburnum trees, families can unplug and enjoy nature; perhaps even learn a little about Rani Baug's spectacular swathe of plant life (853 species!) and its colony of India's largest bat, the Flying Fox. It is the perfect pre-monsoon fix.
Chhatrapati Shivaji Maharaj Vastu Sangrahalaya
Stave off those imminent school jitters, by letting your child participate in the Summer Safari hosted by Chhatrapati Shivaji Maharaj Vastu Sangrahalaya (CSMVS). Budding environmentalists can learn about animal-inspired armour or get a headstart on palaeontology in the fossils workshop. Our favourite is the photography workshop and competitions, where children and adults alike can stroll across the verdant museum lawns, gleaning knowledge from the photography and natural history expert from Saveus magazine as well as take pictures that inspire them. The winning pictures will be displayed by the museum on June 5.
Bhau Daji Lad Museum
Step out of the scorching sun and immerse yourself in the grand halls of Bhau Daji Lad Museum in Byculla. The glittering model of development may be slowly eroding Mumbai's traditional communities but you can still explore them at the museum's crop of clay models. Inspired by this, you can craft paper puppets relevant to contemporary urban Mumbai.
Bring the past to life with the museum's Create your own Renaissance Masterpiece that reveals everything about renowned sculptor Lorenzo Ghiberti's Gates of Paradise, a masterpiece of the Florentine Renaissance. This family-friendly workshop will help unravel the Biblical stories behind the delicately-gilded door panels and illustrate the scientific expertise that Ghiberti used to create a 3D illusion of sorts. Inspired by this, your children can shape his/her own story in clay or learn how objects speak to us and reveal the stories they hold in the Become a Museum Object workshop. The perfect way to celebrate the end of summer.
Kahani Karnival
"How do you get kids to read?" asks Shinibali Mitra Saigal, a Prabhadevi resident. The answer is Kahani Karnival, a not-for-profit trust that she started along with five other women. Children can learn to tell tales with Kahani Karnival's summer workshops that are to be held from June 2-13. Perfectly poised for the IB school holidays, these workshops (to be held at Smaaash in Lower Parel) use theatre, dance, music, art and author interactions to tug children into the world of stories. There is dance, physical theatre, Hindustani classical music, puppetry, clowning and even radio jockeying, but our pick is the book club and writing workshop with Shabnam Minwalla, scribe and author of the Six Spellmakers of Dorabjee Street.
For details, visit www.facebook.com/KahaniKarnival
Supersonic Aero Modellers
Why should children have all the fun? Supersonic Aero Modellers brings families together with their aeroplane modelling workshops for all ages. Working closely with her sister, Dilshad Ahmed, founder and sole proprietor of Supersonic, runs the company out of her residence in Marine Drive. Matunga-resident Varsha Shah recently invited Ahmed to conduct a workshop at her home. Shah says, "We decided to go with 3-4 paper models and one static model. The workshop was so good that even I joined in. I was very impressed and the kids had a very good time. The best part is that she is very patient; also, she brought along another teacher (her sister) for a batch of only five children."
Little learners can broaden their horizons by learning the basics of aeronautics and engineering in a fun way. "There are thousands of designs available for aero modelling, but it depends on your level of expertise," says Ahmed. They have a workshop from June 2-6, where children can get to learn how to make paper planes, a 3D static model and a flying model.
For details, visit www.supersonic.net.in
Artisans'
Little, nimble-fingered artists should wend their way to the 'Braids, Baubles and Beads' workshop slated to held on May 22-23 in Kala Ghoda. Curated by Artisans', kids and their parents can have fun with fibre, learn 'Ply-Split Braiding' and other techniques to create unique bracelets, adding beads and decorative accents under the guidance of Errol Pires, former senior faculty, Textiles, National Institute of Design (NID). Ekta Luthria, a SoBo resident and a regular at Artisans', says, "The previous workshops were a fabulous experience for the children. A unique combination of fun and knowledge, they gave the children a platform to experience and learn through lateral thinking and acting. The braiding workshop is an opportunity to do something beyond books; experiment with different materials under professional guidance; and enjoy two fun-filled days in a safe environment."
For details, e-mail at artisanscentre@gmail.com