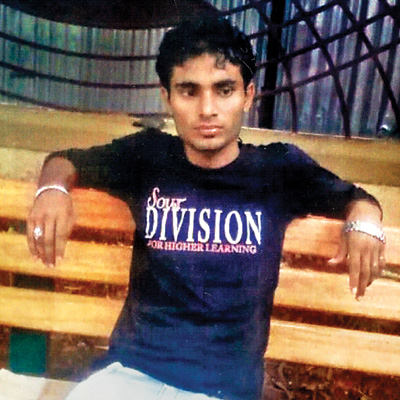 A 25-year-old railway accident victim who was being treated at the emergency ICU in Sion hospital for the past two days was thrown out at the wee hours of Wednesday, apparently because someone else needed a bed, and left to die in the corridors outside the male orthopaedic ward.
What happened?
Swapnil Patwa, who lived in the Shalu D'Souza chawl in Vikhroli (East), was relieving himself by the tracks on August 31, when a train brushed past him and left his legs and left arm fractured. He was taken to Rajawadi hospital in Vidyavihar and later shifted to Sion hospital.
What happened at the hospital
He was given five bottles of blood as he had suffered massive blood loss, his father Sheshnath Patwa said. He was kept on ventilator support for two days.
Why was he thrown out?
On September 3, close to 1.20 am, a third-year resident doctor on duty instructed that Swapnil be shifted out of the ICU to Ward 30 in the male orthopaedic ward on the third floor because someone else needed a bed. The ICU has 14 beds.
How did he land up in the corridor
Sheshnath Patwa said two ward boys ferried Swapnil on a stretcher but left him in the corridor as the nurse on duty Jyoti Nagre told them there were no vacant beds. "The male orthopaedic ward has 60 beds and doctors said all were occupied when Swapnil was brought in. The ward boys went away telling me doctors will tend to him in the morning," Patwa said.
Did any doctor attend to him?
No. Between 1.20am and 5am, no doctor or nurse came to check on Swapnil. His intravenous dips too had been removed. He was under orthopaedic surgeon Dr HG Argekar's treatment. Resident doctors Gautam Kumar and Hemant Singh who were supposed to be on duty were missing from the ward. And the nurse on duty Nagre was asleep.
How did the patient die?
With no medical aid, Swapnil developed uneasiness. "He started struggling in pain. He turned breathless and later unconscious. "At 5am, a doctor who was on the rounds identified my son as a patient from the ICU and said he was not supposed to be shifted out of the ICU as he still required constant monitoring support," Sheshnath Patwa said.
But by then he was dead.
What does the hospital have to say?
Sion Hospital dean Dr Avinash Supe said: "A senior doctor from the general surgery department has been appointed to find out the facts of the case. A detailed probe will be carried out on why the patient was shifted out of the ICU and why he wasn't monitored for four hours if he was in a critical condition."