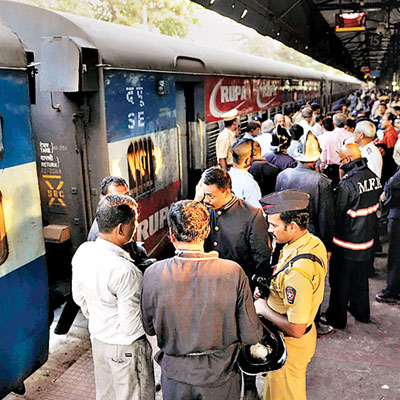 The evening commute at CST on Wednesday had more than a dose of bizarre and pandemonium after fire and smoke emanated from three long-distance trains parked at the sprawling terminus within a span of an hour.
While Central Railway officials sounded relieved that there were no injuries to any passenger, the fact that the three incidents could be sabotage has left them shaken.
In the first incident, the fire broke out around 5pm in the bathroom of Mumbai-Pune Deccan Queen which was parked on platform number 8. The power supply to the overhead wires was shut immediately after the control room got the message about the fire around 5:03pm.
According to officials, the fire was in control by 5:10pm. The passengers managed to alight safely because the fire was not huge. The Deccan Queen finally left the station at 6:14pm, said officials.
However, hardly had the fire brigade personnel started packing their equipment when around 5:43pm, sparking and smoke was noticed from coach S-5 of the 1023 CST-Kolhapur Sahyadri Express. The train, parked on platform number 9, was supposed to leave at 5:50pm.
As the fire brigade personnel doused the fire and railway officials began uncoupling the coach and remove it, similar sparking and smoke was noticed in coach S3 of the 2809 CST-Howrah train. This train was parked on platform number 15 and was supposed to leave at 8:30pm.
Speaking to dna, Narendra Patil chief public relations officer, CR said that officials were investigating the fires. Senior officials said the CCTV footage of CST was being scanned to check if they could come up with anyone moving about these trains in a suspicious manner.