Once it rains hard during the monsoon, tracks are likely to sink due to the loose soil, and then the rakes will scrape the platform floor triggering panic.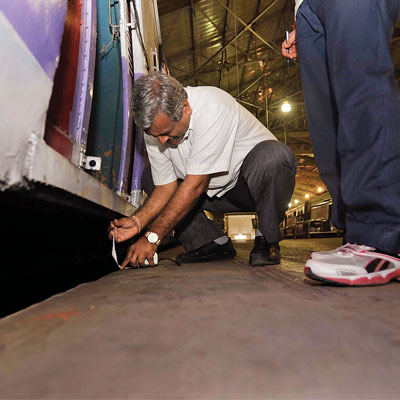 Railway officials in the city are getting wary about the effect raised platforms would have once the Mumbai monsoon sets in. Once it begins to rain hard, the soil beneath the ballast that gives solidity to the tracks, starts sinking as the water loosens it.
Several platforms on the Western line which were raised recently, now have a gap that could get eroded if the tracks sink. The lack of a gap would mean that trains entering the platform would scrape the platform floor, causing sparks to fly due to friction. And this could trigger panic among those standing on the foot-board.
"The other problem is that at certain stations a train's speed would have to be restricted heavily for it pass through the platform safely. In such a scenario, trains would find it difficult to keep to their schedule," said an official.
A survey conducted by railway authorities in the city and experts from the Research Design Standards Organisation (RDSO)—the railway's apex technical authority—during the night of February 26 found platform no. 7 in Andheri to be extremely vulnerable in case the soil beneath the tracks becomes loose.
"This platform was raised to 920mm and there is hardly any gap when the older retrofitted rakes are used. This is a Harbour Line platform and a lot of 9-coach retrofitted rakes are used on this route. So the chances of a train scraping the floor is very high here, and so in the days to come, something will have to be done about it," said an official, who was part of the survey.
The danger here (platform no. 7) could come after some time, say officials. "Currently, being a terminal platform, trains move in very slowly before coming to a halt. Trouble could start when the platform becomes a normal one after the Harbour Line is extended to Goregaon by next year," said the official.
The problem, said another official, is that despite all the talk about stringently adhering to the requisite height—down to the last millimeter—variations occur at various platforms.
"The platform at Andheri might be a shade higher than 920mm, say 960mm, and that might have reduced the gap drastically. But we found a platform at Charni Road—platform no. 2—to be almost 970mm. It is unacceptable," said the official.
Post survey, officials believe that a height of 900mm is possibly the safest—like those in stations between Vashi and Panvel—and that anything higher could be detrimental.