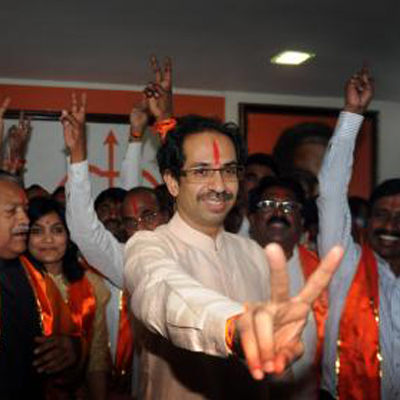 Shiv Sena executive president Uddhav Thackeray, who was in Navi Mumbai on Saturday for congregation of party workers, said the 2014 Lok Sabha polls will see the fight between "traitors" and "loyalists". Thackeray appealed to Shiv Sainiks to work hard to get "loyalists" elected in the state. Shiv Sena MP candidate from Thane Rajan Vichare and Kalyan candidate Dr Shrikant Shinde were present on the occasion along with senior party functionaries. While there, he also made an emotional appeal to workers that Thane constituency was "close to the heart" of Balasaheb Thackeray.
"This election is a clear fight between traitors and loyalists. We have to win Thane, Kalyan and Maval seats and Shiv Sena workers should work hard to get our leaders elected. As far as Thane and Kalyan seats are concerned, I have been assured by Eknath Shinde (MLA from Thane) that he will get 4 seats elected from the district and I am trusting him and all you Sainiks," said Thackeray, addressing workers in Airoli.
Training guns at those who have defected from the Sena, Uddhav said, "This are opportunist people who are attracted by power. Some leaders say Sena is a regional party, I would like to remind them that yes it is a regional party but it is original party. It was never the party for those who could jump from one party to another for sake of power. And so this elections is an important one as we all have to teach these traitors a lesson."
On Narendra Modi as BJP's prime ministerial candidate, the Sena executive president, said, "After BJP decided to project Modi as party's prime ministerial candidate party president Rajnath Singh called me up and so did Narendra Modi and Shiv Sena was first to support his candidature. Whatever Sena does is in open it does not indulge in scheming things."
Referring to former municipal commissioner, Vijay Nahata, joining the Shiv Sena, he said, "Normally, administrative officers are close to ruling party, but Nahata joining an opposition party is enough to speak volumes on how the rulers are functioning. He has been given the responsibility to draft our manifesto and I have told him only those works which can be completed should be undertaken there should be no false promises in the manifesto."
The Sena leader was also critical of NCP's Jitendra Awhad, who interfered in the police combing operation in Mumbra and abused police personnel doing their duty. "Some suspects taken into custody by the police had to be released due to Awhad's interference. Tomorrow if any untoward incident happens who is to be blamed. Sharad Pawar is quick to give certificate that Ishrat Jahan was not a terrorist but the same government is not even filing chargesheet in case of Sadhvi Pragya Singh Thakur who has been lodged in jail for last 5 years. The same government files cases for inflammatory speech against us but no action is taken against Owaisi. Sharad Pawar should not forget the Gowari massacre that took place during his tenure as the chief minister," said Thackeray.
Former civic chief Nahata, in his speech, said, "The MNS is an opportunist party that has opened shops ahead of elections and is going with those who are offering big amounts. They have backstabbed Marathi manoos."