Cops hesitate to arrest Kamini, wife of Shiv Sena candidate; wait for bail plea outcome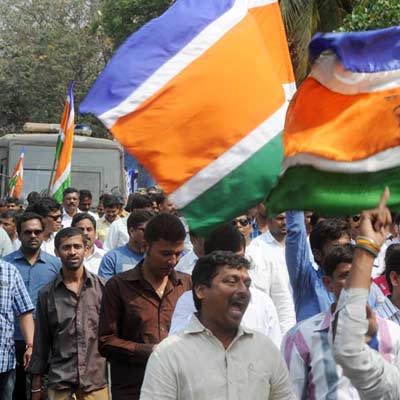 The Special Investigation Team (SIT) set up by the Trombay police to probe into the clash between Shiv Sena and Maharashtra Navnirman Sena (MNS) workers at the start of polling on Thursday, has arrested a third person in the case.
Sagar Mane, 21, was arrested at Vashi check naka on Saturday evening, and charged under relevant sections of the Indian Penal Code for attempt to murder and rioting.
"We arrested Mane while he was trying to get away from the city," said Vijay Kadam, senior inspector at the Trombay police station. "We are still looking out for the other persons who were involved."
According to the police as many as 15 others were involved, including Kamini Shewale, the wife of Rahul Shewale, who is contesting the Lok Sabha election from the Mumbai South-Central constituency.
All of them face similar charges. The two other persons arrested on Thursday were Rohidas Therange, 39, and Mohammed Sizaudin Mohammed, 43.
A constable suffered serious injuries when a group of policemen rushed to the spot to control the incident. He is being treated in hospital and his condition continues to be serious.
Shiv Sena supporters had alleged that a local MNS worker was distributing money to voters and this sparked off the incident in the Maharashtra Nagar area.
Asked why Kamini had not been arrested so far, the police inspector said, "We have been told that she has got interim relief from the sessions court. We are waiting for the final order on her anticipatory bail application."
The police have not been able to record the statement of Vikas Thorbole, the constable who is in hospital, because of his injuries. The windpipe and the food pipe have been damaged.
The police initially presumed that the injuries may have been due to shards of glass from a car window that was broken during stone pelting by the party workers.
But from the medical report it seems that may not be the case. "The medical report suggests that the injuries were not due to glass. We are taking medical opinion and we will investigate the matter according to this," Kadam said.