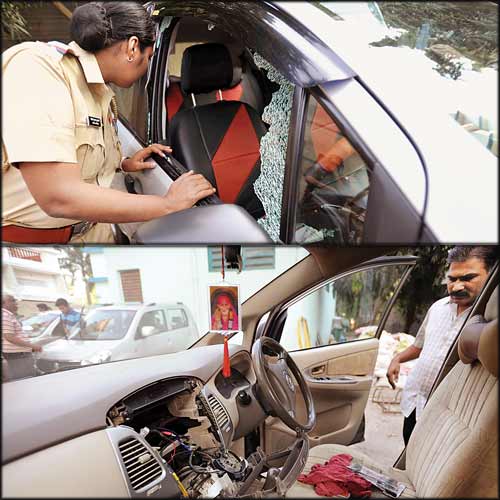 Thieves struck in Bhandup (West) early on Tuesday, breaking open glass windows of eight cars parked inside three housing societies before making off with six music systems. The intruders also damaged the interiors of the vehicles.
Despite the presence of watchmen in each of the societies, the crafty burglars managed to steal the electronic items worth over Rs50,000. No arrests have been made so far, the police said.
Santosh Rai of Dattakrupa society was all set to travel to Amaravati with his family in the morning.
As the 30-year-old was getting ready, the cleaning boy told him that his Toyota Innova had been broken into. "I rushed down to find that the music system worth Rs 15,000 was missing and a window shattered," said the engineer.
Senior photographer Sanjay Hadkar of the same building was another victim. "I learnt about the crime in the morning. The miscreants took away the music system from my Ritz car," said Hadkar, who works for a national daily. He has lodged a police compliant.
In neighbouring 10-storey Prince Vaibhav society, businessman PK Jain's Wagon R was damaged. "The thieves got into the car by breaking the driver's window and stole the system worth Rs6,000. They also damaged the interiors," said the 58-year-old resident.
Local residents said it was the first time criminals had targeted vehicles parked in the buildings.
"This despite the presence of guards," said Hadkar. None of the societies has CCTV cameras.
Pratyush Sharma, 29, of Lords' society considers himself a bit lucky. The alarm system of his Nissan Micra went off during the theft attempt. Sharma said, "One of the doors was slightly open but nothing is missing." He said there were six watchmen on night duty.
Srirang Nadgauda, senior police inspector of Bhandup police station said, "We have registered a case of burglary and efforts are on to nab the criminals."