At Kala Ghoda Arts Festival, eminent thespians discuss issues faced by them.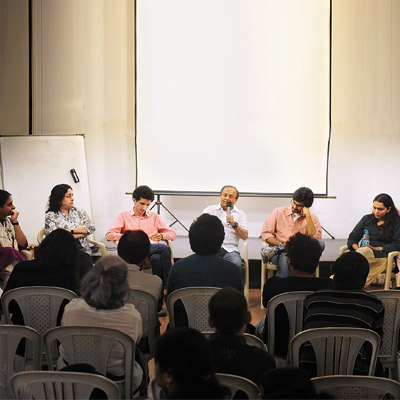 Technology, the slow fading of vernacular languages and other threats faced by contemporary Indian theatre were part of the panel discussion organised by Avid and Kala Ghoda Arts Festival at the Artists' Centre on Wednesday.
Moderated by Ramu Ramanathan, the panel comprised eminent thespians such as Sanjay Goradia and head of Theatre and Film Programming at NCPA Deepa Gahlot and young producers like Quasar Padamsee. Shaili Sathyu focuses on producing plays for children while Purva Naresh works on plays in vernacular languages and Jehan Manekshaw has his own school of drama.
Though theatre in the English language is experiencing a bright phase, plays in the vernacular languages are suffering as youngsters have moved away from local tongues. "They don't understand the language so they don't attend plays," said Goradia.
He added that with the death of vernacular languages, theatre in those languages would die as well.
"Theatre is not restricted to what happens behind the black curtains. Scripts, costumes and audio-visual aspects are all important components of theatre," Goradia added.
Fluctuations in prices and rising costs mean that thespians have to spend much time taking care of logistics. The panel in unison concluded that producers who would pick the script and cast are the need of the hour.
Manekshaw believes that the future of theatre is in educating children and conducting workshops. "That is where you will find talent and also create an audience," he said.
The disappearance of public performances was reminisced. Sathyu however had her own take on it when she said, "Romanticising about the theatre scene of the 1960s and 1980s is of no use as it is a thing of the past. Mumbai is a different city now."
Panel members discussed the core issues that plague theatre as a keen audience listened. Sathyu explained how the very manner in which theatre is performed may change. "We will need to reach out to audiences. Plays may be performed in people's drawing rooms. You need to go to people if they don't come to you," she said.
Gahlot who is working on filming plays believes the experience is the next best thing to being there. "Technology has made it possible for us to watch plays being performed in Paris and New York," she added.
Padamsee highlighted the fact that thespians skim the line between art and being entertainment. "Writers are an important part of the future of theatre. When I want to perform a play, I try to think that it should not be replicated in a different medium."
Manekshaw opined that people associated with theatre must answer a question: "How do you get to a stage where people can afford to be just theatre people and do not need to bank on a day job?"