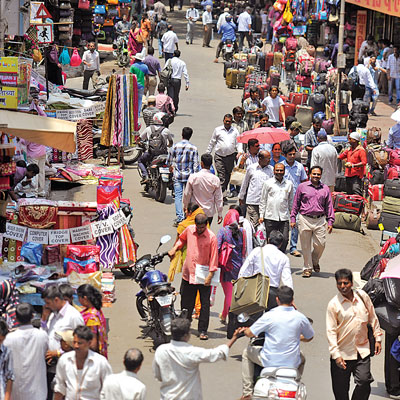 When the 'removal of encroachments department' of the BMC is under pressure to act against hawkers, the ward offices have to initiate action. Several raids across the city are planned and there is official correspondence between BMC and the police. Joint raids are then conducted and goods seized.
What happens to these goods?
It's interesting. As they have to put it on record, the licence department auctions some of the seized goods. The rest is released through the backdoor. And the hawkers have to thank 'zero' for the help.
Who is zero?
Zero is the person who co-ordinates between hawkers and civic officials responsible for the raids. He/she helps hawkers get their goods released from BMC godowns, where the civic team dumps it after the raids, a civic official working for the 'removal of encroachment department', said.
There are three 'zeroes' in the city who command the entire network across the city. They work in tandem with the hawker mafia. Territories of the three are divided into: city, eastern and western suburbs.
Hawkers in the city are aware of the 'zeroes'. They know whom exactly to approach and where to approach. Though there are several agents who work at the ward level, the point-person is the 'zeros'. They are so powerful that they can get confiscated goods released within hours, helping hawkers resume business.
Whenever there is a raid, civic officials in the special squad alerts 'zero'. The seized goods are dumped in any one of the civic garages designated for the purpose. 'Zero' is fed all the information about which garage goods from a certain area have been dumped. When a hawker approaches them with request to release his goods, civic officials advise him to contact 'zero'.
'Zero' collects the details of the goods, checks with the godown, and tells him he has to pay a certain amount to get his goods released. Once the payment is made, 'zero' signals officials in the godown, who without a question releases the goods.
The entire procedure goes on without much dialogue. Everything is well coordinated and deals worth thousands of rupees take place every day. And it's a win-win situation for everyone—hawkers, civic officials and 'zero', who has the extra burden of keeping politicians in the area 'happy' so that they come to his rescue when situation demands.