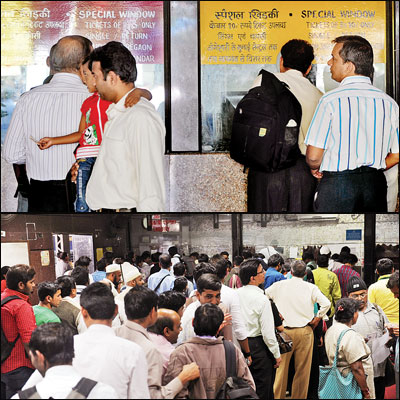 If time is money, Mumbaikars are getting poorer every day, considering the serpentine queues at ticket counters and the amount of time one wastes in these long lines to buy a ticket.
With the railway ministry frowning on the need for having too many manned ticketing windows at railway stations and its ambitious plans to have Automatic Ticket Vending Machines (ATVMs) not taking off all that well, the suburban commuter is having a tough time.
Western Railway is the worst affected because it is working on just a skeletal system of 80 ATVMs, especially after it had to decommission 115 last year because they had finished their life term of five years.
A new experiment, still in early days, has been implemented on WR, with Andheri, Borivli and Bandra having two counters dedicated to selling only Rs5 and Rs10 denomination tickets. These windows are colour-coded — red for the windows selling Rs5 tickets and yellow for the Rs10 ones.
WR started this experiment a few days ago after realising that tickets of these two denominations are the most in demand. These two tickets cover the 30 km between Churchgate and Borivli, which incidentally is the stretch for which maximum tickets are sold.
The results, so far, have been a mixed bag. In Andheri, the two counters have cumulatively sold 21,151 tickets worth Rs2,64,995 between February 11 and 15. At Borivli, the ticket sales for the same period have been 10,220 worth Rs1,39,115.
The data shows that since the two colour-coded windows started at Andheri, around 15% sales of Rs5 and Rs10 denomination tickets are from these two windows. Officials are taking this as a healthy sign.
Officials overseeing the sales said that at the moment there is nothing much to indicate if the experiment will be a success or not. "We will monitor till March 10 and then take a call on whether it can be made permanent or not," said an WR official.
For commuters, any experiment that reduces the time they have to stand in queue for ticket should have only one result, a positive one. The other hope is that WR began the process of buying around 490 ATVMs on January 10.