Reforming the police force will be the top priority for the new police commissioner.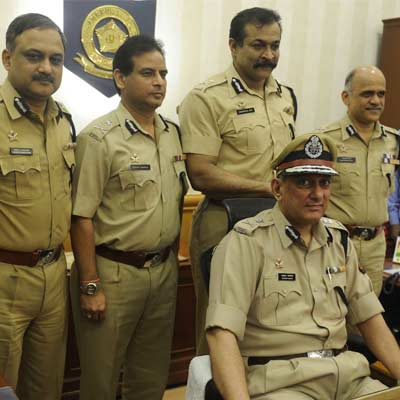 After an unprecedented tussle between the ruling allies, the Congress and the NCP, Rakesh Maria (57), an IPS officer with maximum hands-on experience of policing the city, was appointed commissioner of Mumbai. Putting behind the unseemly wheeling-dealing that went on for a fortnight, dna sets an agenda for the new police chief.
Curbing corruption: Extortion by the police is on the rise. Many constables take bribes from hawkers, roadside foodstalls etc. Bars, organised crime syndicates and builders are also a major source of income.
Even for passport verification, money is demanded. This has to stop. Honest policing is the need of the hour. The help of Pravin Dixit, an upright officer heading the Anti-Corruption Bureau, should be sought to stop the 'hafta' culture. Online services should be improved so that there is no need for citizens to visit cop stations.
Proper deployment needed: It is not an easy task to police a city of over 13 million people with a 40,000-strong force. The number of policemen deputed for security to rich and private individuals should be drastically reduced and they should be diverted for regular patrolling. Also, it is absurd to post constables in dance bars to make sure they down shutters in time. It is not the job of the cops to see that bars are shut in time. For that, there is the excise department.
Increase fines: Mumbai was once known for its traffic discipline. That's now a thing of the past. The brazen impunity with which motorists, drivers of BEST buses, taxis and autorickshaws violate the law is alarming. The number of people who jump signals, cut lanes, double park, halt on zebra crossings, park in front of bus stops etc is on the increase. The traffic police should be asked to treble the amount they collect as fines.
Stop torture: Human right violations are continuing unabated. The Supreme Court guidelines on arrests and detention are openly violated. Every person arrested or picked up for questioning should be told about his right to contact his family, inform a lawyer and must be informed of the offence for which he is being called to the police station. Third-degree methods of torture should be totally discouraged. A helpline should be opened at police headquarters for people to complain about rights violations.
General behaviour: Policemen must improve their relationship with citizens. NGOs and mohalla committees should be encouraged to interact with the staff of local police stations and the latter must be asked to speak politely with the public. Swear words come so very easily to the cops. This should be discouraged .
Senior officers must be available at specified hours and online complaints should be accepted and acted upon.
Informant network: Earlier, the police used to have a huge network of khabris or informers. This network needs to be widened and incentivised substantially. Special Branch I and the Crime Intelligence Unit, which are responsible for intelligence-gathering, should be made more efficient. Capable officers with strong knowledge of the city should be posted in these units.