dna reader Ekta Bhatnagar explores the B.E.S.T. museum at Wadala which chronicles the glorious history of the undertaking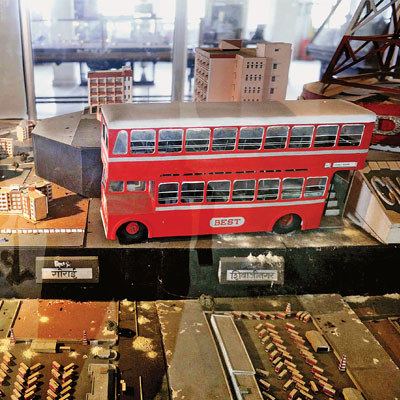 I have been living in Wadala for so many years, yet I did not know that the B.E.S.T museum is located here! Thanks to dna, I am actually visiting this museum!" said dna reader Ekta Bhatnagar. After a few security checks and jotting down our names in an old register, we finally get to enter the museum.
A trip to the B.E.S.T. museum will take you back in time to 1947, when the undertaking took charge of the bus and tram transport in the city. It has an impressive display of vintage buses, detailing the B.E.S.T.
story from its inception to the present day. Ancient clocks that belong to B.E.S.T.'s parent company grace the walls of this museum, which is housed on the third floor of Anik Bus Depot at Wadala. There is so much to see at the museum that you might want to spend a couple of hours here browsing through the one anna tickets, monthy and weekly passes that existed over two decades ago, the different kinds of buses that plied on Mumbai roads through the years and a miniature depicting the various bus depots spread across Mumbai. The museum showcases the history of B.E.S.T.—from the horse-pulled trams in 1874 to the double-decker buses and the present single-decker buses—highlighting the various stages through which the city's transport system evolved.
Bhatnagar was struck by the uniforms worn by the B.E.S.T. drivers, conductors and security guards which have been preserved and showcased in glass cases. "They had security guards then! We need such guards today for the safety of women," she said. The wooden benches, used in the trams, occupy a pride of place at the museum while a large calculator used by the Britishers is left to gather dust on a rickety table. The museum features mini models of B.E.S.T. buses and trams, hand-written placards in Marathi and photographs of a long forgotten era.
The person in-charge at the museum informed us that there used to be a B.E.S.T ferry service from Marve/Manori in November 1981, which has now been taken over by private parties. A visit to the B.E.S.T museum also highlights how the undertaking worked during the British Raj and while it showcases its rich history, not many have heard of this museum. "As a child, I remember rushing up the stairs of double-decker buses just to get the window seat in front of the bus. This museum visit has brought back those fond memories," said Bhatnagar.