A recent auction in Delhi was marred by allegations of fakes of masters such as Tagore and Husain. And this is just the tip of the proverbial iceberg, says Gargi Gupta as she takes a closer look at the murky multimillion-rupee market of fakes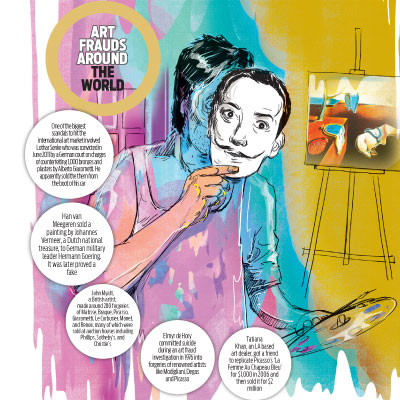 The paintings in last Friday's Bid & Hammer (B&H)Significant Indian Art auction in Delhi may or may not have been fakes, but the drama over them was very real indeed. From Delhi to Kolkata, Bangalore to Mumbai, the entire Indian art community was amazed at the sheer number of artworks said to be fake and the stature of artists whose works were alleged to have been forged — all big names such as Rabindranath Tagore, MF Husain and SH Raza.
The June 27 auction went ahead despite this; pushed through by lawyers' notices that B&H handed out to everyone doubting the genuineness of the paintings. This writer was the recipient of one such notice — I had written to B&H director Ankush Dadha ahead of the auction asking for a response to the pointed objections that experts were making. Vikram Bachhawat, a Kolkata-based art gallery owner whose Facebook page Talk Art was the first to point out that the Nandalal Bose was the same as the one at the NGMA, got one and so did Ganesh Pratap Singh who wrote to the Prime Minister's Office (PMO) about the Tagore work. Even 92-year-old Raza, India's most senior living artist, was not spared when his foundation wrote to the auction house raising doubts about some of the works attributed
to him.
Contrast this with how leading international auctioneer Christie's withdrew six artworks by Husain,
FN Souza and Ganesh Pyne from its March 2006 auction in New York on the day of the sale after doubts were raised about their authenticity. Sotheby's too withdrew a handful of artworks from its sale that month and Osian's, a homegrown auction house, took off a Bikash Bhattacharjee after it was identified as a fake. All auction houses have in-house experts, as does B&H to check on paintings that are consigned to them for sale. "It's standard practice," says Bachhawat, "among established auction houses who care about their reputation."
Clearly the art market is inundated with fakes.. Art experts say that as much as one-third of the Indian art market is fake. Naturally, it's the sought after artists, who are also the most expensive, who get faked the most. "Art from Bengal is the worst victim of fakes since they are the most coveted by collectors," says artist Suvaprasanna.
Why do fakes flourish?
After all, isn't the artwork's originality the main reason it can command lakhs and crores?
There are several reasons for this, the most important being that many art collectors will do anything to have a canvas by a well-known painter on their walls — no matter if it's a fake.
Two, the Indian art market is still nascent and checks and balances have yet to develop against malpractices. India does not have a fraud squad' like the London Metropolitan Police to investigate the sale of fake paintings. There is also no official body to regulate fakes, a lacuna that Ashish Anand of Delhi Art Gallery is now trying to fill by lobbying the government for a regulatory body that will ensure the pursuit of fair business practices that monitor the interests of the consumer".
Three, though more people can tell a Husain from a Souza, there's little understanding or knowledge of art.
Issues — whether of fake paintings or rigged auction sales — come to the fore only when written about in the media as happened in this case. Or late last year when paintings of Husain and Manjit Bawa at the India Art Festival were declared copies by The Husain Foundation, run by Husain's daughter Raeesa.
But these, artists will tell you, are just the tip of the iceberg of a well-oiled market in fakes that involves not just the poor junior artists who 'copy' the masters, but also prominent galleries and auction houses.
Often, 'fakesters' will try to legitimise a work by getting it authenticated by the artist if he's alive, or his family if he's not. For instance, the Bikash Bhattacharjee paintings in the B&H sale had been authenticated by senior art historian Pranab Ranjan Ray and critic Sandip Sarkar. But the artist's son, Bivas, claims they are fakes. In a letter to B&H before the auction, he elaborated on the history of the painting. "These artworks were... studies my father did during his college days in the late 50s and early 60s. After he was done with the series, my father, being the organised man he was, packed these artworks away, never letting anyone see them. My mother, who has been a witness to all his works after their marriage, had not seen these works till she discovered them in his studio in late 2003. I personally took shots of every artwork to come out of his studio... and hence, I can vouch for the fact that these two artworks in question are indeed forgeries."
But even the testimony of family can be a problem, as it is the kin of Jamini Roy, Somnath Hore and Souza who have been known to have passed off fakes as originals.
How to spot a fake
The problem is that it's deucedly hard to identify fakes — it requires considerable familiarity with an artist's style, the many variations in style over his career, and the minutiae of his life and his social milieu. Only family members or scholars who have invested years in studying and analysing an artist can claim to have such expertise.
R Sivakumar, professor of art history at Kala Bhavan, Santiniketan, is one such expert on Tagore's art. He curated the 2011 international exhibition of Tagore paintings, partly sponsored by the Indian government and held on the occasion of his 150th birth anniversary, and his book The Last Harvest: Paintings of Rabindranath Tagore, is the definitive word on the subject.
Elaborating on his views on 'Nritya', lot 45 in the B&H auction and supposed to have been painted by Tagore in 1933, Sivakumar says: "The book was published, as far as I know, only in 1949. Which means that Tagore painted the cover for a book to be published 16 years later and eight years after his death in 1933 and sold it some time before his death in 1941. This is a weird sequence of events to say the least.
Further, the cover of the book that appeared in 1949 did not have the orange colour on it, and there is an identical drawing in the collection of the Rabindra Bhavana at Santiniketan... this is also strange because Rabindranath did not make identical drawings or paintings."
This work is known to have been gifted by Tagore to Sarada Ukil, an artist and associate in Santiniketan, whose son sold it to well-known collectors Dinesh and Varsha Thacker, who consigned the work for auction to B&H. Such a clear (or seemingly so) provenance, or history of an artwork's ownership, preferably with evidence such as a bill of sale, a gift deed, an inscription on the artwork mentioning the recipient by name, even a photograph, is rare and greatly adds to a painting's value.
Arun Vadehra of Vadehra Gallery and a consultant with Christie's India, says, "White Center (Yellow, Pink and Lavender)' by Mark Rothko sold for a record $72.8 million in 2007, because there was evidence showing that it had been in the possession of David Rockefeller for 47 years — photographs showed the painting in the background with the owner over the decades."
But even photographs, in this age of photoshop, is not foolproof evidence. A Kolkata-based galleryist recounts a painting by a very senior living artist brought to him for sale a few months ago. "He showed me a photograph of the artist with the painting. But the photograph seemed a little odd and I realised it was similar to a photo of the artist with my daughter, taken at his home a few months ago. I compared the two images and found they were exactly the same — only the image of my daughter had carefully been photo-shopped out and replaced with the painting," says the galleryist, who has come back to stay in India after living in France for five decades.
"It is also impossible to take such a photograph without one of us around. He [the artist] is very old and has not been well. We are all very careful to be around him at all times, " adds the galleryist, who is close to this artist.
The problem is compounded by the fact that several Indian artists, especially those who were working in the early decades of the 20th century and whose paintings now command millions, did not maintain records of paintings they executed or people they sold it to. The early works of these artists especially changed hands for a few hundred rupees. Husain is particularly a problem as he was known to have painted or sketched prodigiously on scraps of paper that he gifted to even casual acquaintances. There's little to prove that these works that are now coming up for sale are genuine.
In case of living artists, art collectors can appeal to the artist directly. "I once had a painting that was by me brought for authentication that was a fake — such is the audacity of fakers," says Suvaprasanna.
In the end, perhaps, it is the market that is the best arbiter of worth, or genuineness of a painting. Very few of the paintings at the B&H auction managed to sell — no serious art buyer wants to pay top dollars for a work tarred by allegations of being fake.
How to guard against fakes
Buy only from a well-reputed gallery or auction house
Look out for signatures/little notes by the artist on the margins or back of the painting. Check for inconsistencies
Read up on the artist, go to museums and exhibitions to acquaint yourself with the artist's style from a particular period, his brushwork, the kind of subjects he was painting, the general size of his paintings and his life story. Then check whether the painting you have/want to buy fits in with the known narrative
Check on provenance – the history of an artwork's ownership. Insist on evidence of the artwork every change in owner, whether letters, gift deeds or bills of sale from earlier owners
If you own a painting whose genuineness you are unsure of, take it to the artist's family or a trust/foundation sun by family/friends for authentication. Art historians who specialise in the artist/period will also tell you whether it's fake or original
Forensic authentication, using digital technology or 'craquelure' – analysis of the cracks on the surface because of age – is a state-of-the-art way of detecting forgeries. But it's expensive, and not available in India
Art frauds around the world
One of the biggest fake art scandal to hit the international art market involved Lothar Senke, who was convicted in June 2011 by a German court on charges of counterfeiting 1,000 bronzes and plasters by Alberto Giacometti. Senke apparently sold the sculptures from the boot of his car, showing buyers a book of photographs of the artist with the works and telling them that they had been secreted away by the artist's brother, who he claimed was a friend
Han van Meegeren sold a painting by Johannes Vermeer, a Dutch national treasure, to German military leader Hermann Goering. It was later proved a fake. Six of his detailed forgeries sold for $60
million on the Dutch market
Elmyr de Hory committed suicide during an art fraud investigation in 1976 into forgeries of several renowned artists, including Modigliani, Degas, Picasso, and Matisse
John Myatt, a British artist, made around 200 forgeries of Matisse, Giocometti, Braque, Picasso, Giacometti, Le Corbusier, Monet, and Renoir, many of which were sold at auction houses including Philips, Sotheby's, and Christie's.
Tatiana Khan, an LA based art dealer, got a friend to replicate Picasso's 'La Femme Au Chapeau Bleu' for $1,000 in 2006 and then sold it to an unsuspecting buyer for $2 million