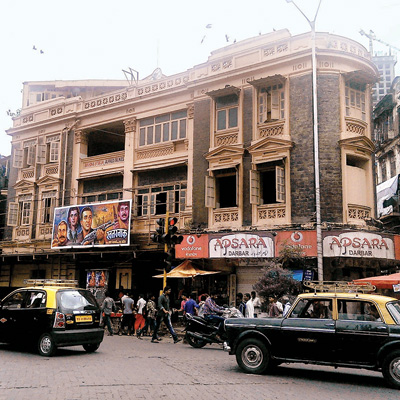 People of a certain vintage may remember a time when Grant Road was once a glorious repository of culture. In and around the warren of Grant Road lanes, magnificent structures such as Silver Talkies, Grant Road Theatre, Royal Talkies and Imperial Cinema acted as magnets for theatre lovers.
One such structure was Alfred Talkies. More than a hundred years ago, in the 1880s, Alfred Talkies was called Ripon Theatre. Locals used to throng its halls, attracted by the fanfare of the stage—one of the first theatres in Mumbai to produce drama in local languages, it is said that even elephants used to put up a performance here! It was a grand time for lovers of the stage.
Then came the 1920s and '30s and motion pictures started rolling in to Mumbai. People hankered to watch stars like Greta Garbo light up the screen. So Ripon Theatre underwent a makeover and emerged as Alfred Talkies, without losing any of its charm. The elegance of its European façade was mirrored in its interiors—a velvet curtains, intricate wall carvings and graceful staircases adorned the insides. It was a place to see and be seen at.
Time slipped away and with it went the ornamental curtains and the jacketed ushers. Cable television and video dimmed the lustre of the single-screen film theatre and Alfred Talkies fell out of favour.
Today, the landmark competes with the onslaught of DVDs and multiplexes the only way it knows how; by screening B-grade action flicks and racy movies. You can still see the words 'Ripon Theatre' etched into the glass on the first floor, partially obscured by a hand-painted poster of its latest lurid offering. As Mumbai surges towards the future, perhaps it should spare a thought for the stars of its past.