Streets, schools, and open spaces in SoBo come alive with 'en[counters]–Is There Love in This Air?', an art festival that thrives on the uncommon, bordering on the bizarre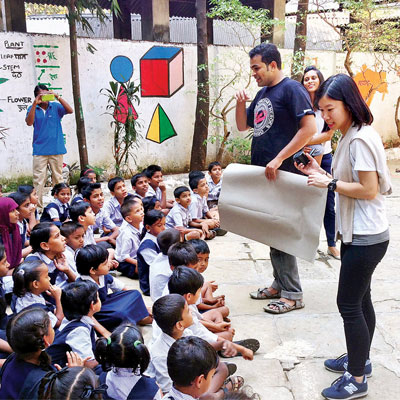 The students at Lord Harris School, Fort—touted as one of the oldest schools in South Mumbai—were in for a surprise when Hong Kong based group, SoundPocket, paid them a visit and introduced them to a new subject: sound mapping. Curious about this alien term, the children listened with rapt attention to SoundPocket, as they presented soundscapes of Hong Kong and encouraged them to recreate a similar soundscape of their school premises, through techniques of mapping and recording.
This workshop was a part of the avant-garde art festival, 'en[counters]–Is There Love in This Air?', organised by ArtOxygen in association with Goethe Institut-Max Mueller Bhavan. Earlier in the week, SoundPocket also conducted a 'Working with Sound Art' workshop for children of Wadala No. 1 Muncipal School and Sewri Cross Road Municipal School. Talking of the sound art workshop, Leandre D'Souza of ArtOxygen says, "It is about exposing these children to art; something they do not have easy access to. The purpose is three-fold: to engage kids, activate open spaces in the city and have the artists come out, and provide solutions to rediscover the city with a sense of identity. It engages people at different levels."
D'Souza is not alone in her interest in rediscovering urban spaces through art. Claudio Maffioletti partners her. D'Souza and Maffioletti, the brains behind ArtOxygen, are presenting the fifth edition of this annual public art festival across the city. They successfully turned the spotlight on SoBo's open spaces by transforming them into exhibition spaces till March 2. The opening seminar of the festival, titled 'Redefining A New Public Space', at the Goethe Institut-Max Mueller Bhavan in Kala Ghoda highlighted this issue to a wider audience.
'en[counters]', the perfect antidote, hopes to create new creative trajectories in spaces uncommon for art, through site-specific installations, situational performances, time-based street action and community workshops. Every edition looks at a different aspect of the city, with the festival revolving around the notion of 'air' this year. "It is our way of creating an awareness of the city through its open spaces and streets, which are chaotic and archaic," declares D'souza. D'Souza, who has a new perspective on art, also conducted a lecture on the subject at Rachana Sansad College of Applied Art and Craft at Prabhadevi along with co-curator, Clara Cheung.
In this festival, a series of public works has been curated by Indian and international artists trying to establish a dialogue and explore how a contemporary art practice can become a catalyst to activate Mumbai's open spaces. Ten Indian and international artists have displayed their art installations during this festival, which has unleashed extraordinary talents. One of the first works of art to go up was 'Dusted', a public art intervention by Lo Chi Kit, wherein the artist used adhesive sheets carrying interviews of Indian migrants living in Hong Kong. When installed, the work is initially not visible but as dust collects and sticks to the adhesive, the stories begin to appear, magically.
Sorting out the chaos of our daily lives, artist Hema Upadhyay created a modest yet extraordinary work of art titled 'What Are We?'. Made of rice grains inscribed with text, Upadhyay invited people to move away from their chaotic environment. "The text on the rice grains is so tiny that you need to step closer and read it with a magnifying glass. It is my attempt to take people away from the lure of the city into a space of their own." Upadhyay is of the opinion that SoBo has turned into a vertical jungle. "By activating its open spaces and encouraging a dialogue among people, we can initiate some kind of reform," she says with an air of optimism.
As artists use art as a weapon through the medium of this festival, it is a stabilising thought to know that fairness abides—for very inch of the city lost to brick and mortar construction, there will be a dream installation being built somewhere. This is not a breeze to be ignored.