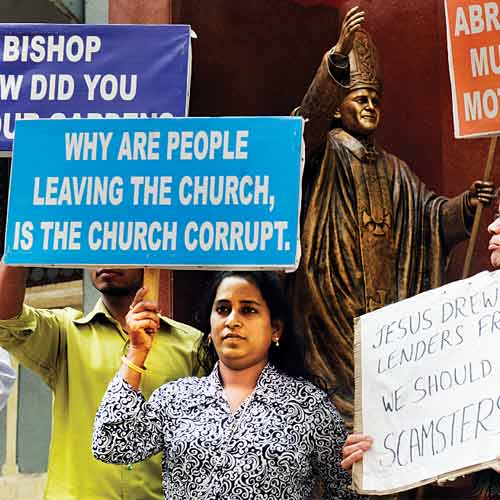 Parishioners of the Our Lady of Mercy Church in Thane held a demonstration at the Archbishop House in Colaba on Saturday protesting the sale of their church land in Pokhran to a builder.
Terming it a land scam, they demanded that the 21,000 sq mt plot, which was sold in 2007 for Rs20 crore, be taken back.
Joe Sodder, a member of the Association of Concerned Catholics, which has rallied behind the parishioners, said, "As per the Places of Worship (Special Provisions) Act of 1991, where there is an existing church, no church or religious structure can be demolished." Michael Alva, a parishioner, alleged that the church authorities have also sold a part of the plot that houses a heritage structure.
Bishop Agnelo Gracias of the Archbishop House defended the sale of the land and said, "This plot was reserved for a public playground. We feared that the municipal corporation may acquire it from us by paying a pittance and later de-reserve and sell it to a builder, who will rake in huge profits. To forestall any such misuse, we sold the transfer of development rights (TDR) of the land to a builder."
The Bishop denied that any structure on the plot had been given a heritage tag. "We would be happy if the old church building was declared a heritage structure. As of now, it lies in ruins.
Moreover, the property is disputed right now — we are fighting a case with a Hindu group which is claiming that it belonged to their deity. In any case, that part of land was not sold," he said.
The spokesperson for Hiranandani Constructions, who bought the land, said, "The land is reserved as a green area, which we are handing over to the Thane Municipal Corporation. We had obtained the charity commissioner's permission and purchased the plot via an open tender five years ago."