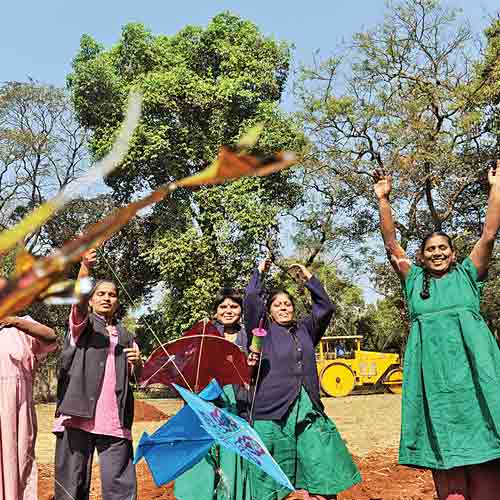 Clad in a blue tee-shirt with black waistcoat and khaki pants, 60-year-old Vivek Kamath resembled a sprightly teenager as he unspooled the kite string and swiftly drifted his kite up in the skies. A patient at Thane Mental Hospital since 2007, Kamath was out with a gaggle of hospital inmates celebrating Sankranti on Wednesday morning, out of the wards and on campus.
Swaying nimbly to cut other kites dotting the skies, it was hard to imagine that the handful of people chattering and romping on the ground in the morning sun were 'patients', considering the hackneyed image portrayed of a 'mentally ill' person.
Precisely what the aim of this special festivity was. "The term 'mentally ill,' brings images of violent patients portrayed as a threat to society. And it is this image that we want to defy today," said Dr Rajendra Shirsat, medical superintendent of Thane Mental Hospital.
Kamath, who experiences hallucinations told dna: "At the hospital, I feel rejuvenated as we stick to a routine. At home, I feel sick with no care."
Amid that joyous cacophony of his patients, former superintendent of the hospital, Dr Sanjay Kumavat, grinned from ear to ear while guiding some of the hospital inmates on how let the kite soar high.
"Not just inmates, the staff too are feeling on top of the world today," said Dr Kumavat, adding how such an entertaining exercise can help reverse symptoms in patients. "Such a feel-good phenomenon does good to a sound or unsound mind. It's a great way to de-stress and take away from the monotony," he said the senior psychiatrist.
The aim of the event, said Dr Shirsat, is to boost confidence in patients by engaging them in social activity. "It's our responsibility to look after their recreational needs besides treatment," he said.
On a clinical note, he spoke of how mental illness have become rampant in cities. Every day, the hospital sees 125 patients in the out-patient department while around 12 are admitted daily.
Meanwhile, as if defying those cold statistics of mental illness, the 'kite-flyers' tugged hard at the string to control the rhombus paper objects, screaming aloud and exulting with clenched fists — this time for sheer joy!
Bird injuries dip
Bird casualties on Sankrant fell drastically this year. Parel animal hospital saw 30 cases against 70 last year. "This year, there is a big drop," said Dr Mayur Dangar, hospital manager. Plants and Animal Welfare Society rescued 11 birds. "Since 2011, numbers are down," said Sunish Kunju, founder.