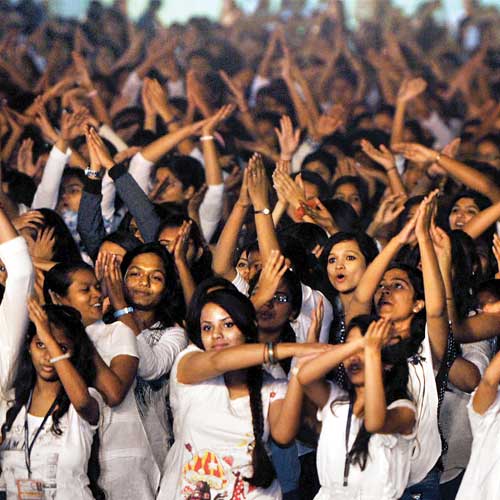 As 5,000 students and teachers from Thakur College, Kandivli, danced in synchrony on Friday, they had a message to drive home – stay fit.
They also broke the Guinness Record of the largest gathering of Bollywood dance swayed to Hindi numbers at the college stadium on Friday. The college beat the earlier set of 1,336 dance performers record set by choreographer Terence Lewis.
With the advent of technology and the increasing level of sedentary lifestyle, the morning jogging hour is being replaced by the constant buzz of the mobile phone. Watching television soaps has taken over evening walks. The college aimed at sending out a message at the event – to cope up with the fast moving urbanised lifestyle and stay fit.
Nishant Jha, coordinator of the cultural committee at Thakur College, said: "The youth of the country will be role models of tomorrow. It is essential for them to form outdoor activities as a part of their curriculum."
After dancing to the tunes of hit Bollywood songs such as Bappa Morya, All is well and Lungi dance, Sumeet Pednekar, a first year student of the college said: "The idea to shake a leg together created an excitement and enthusiasm among all of us."
In March, Terence Lewis broke a Guinness World Record by making 1,336 people dance in unison. The feat was accomplished through Colors' reality show 'Guinness World Record - Ab India Todega'.
The record was broken Saturday at St. Teresa High School. The participants were invited through a free of cost registration process.